Though initially opened with great fanfare, the promising ebony vein in Kudanat Mine was actually quite shallow and the mine was soon played out.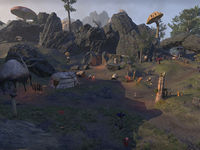 Kudanat Mine is a mine located to the north of Balmora.
A tribe of Ashlanders watches over the mine, the tribal markings of which show them to be from the Zainab Tribe. On orders from House Redoran, it has been attacked by members of the Ferhara's Warclaws mercenaries. The mine interior is only accessible during Of Faith and Family.
Related Quests
Edit
Characters
Edit