"The light that shone from the statue of Narilmor acted as both guide and protector to Ayleid ships crossing the Abecean, promising warmth and safe harbor in Garlas Malatar, until the city fell in the latter days of the Alessian Slave Rebellion." - Tjurhane Fyrre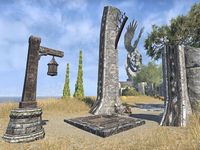 Depths of Malatar is a group dungeon on the Gold Coast.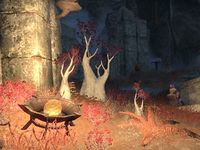 It's part of the Wrathstone dungeon pack DLC, along with Frostvault. It is located beneath the Ayleid ruins of Garlas Malatar, connected to the sunken ruins of Fort Mistwatch. The ruins are occupied by followers of Meridia who have devoted their very life and essence to keeping one half of the Wrathstone Tablet hidden deep within.
An unlikely partnership with the spirit of her treacherous ex-husband, Quintus Verres, leads the acclaimed relic hunter Tharrayya to the wreckage of an Imperial fort built to plunder Ayleid ruins on the Gold Coast. Believed to be abandoned after its destruction in an unnamed calamity, Tharayya's search reveals a terrible secret—the Imperials never left. With your help, Tharayya hopes to overcome the unnatural guardians protecting the legendary artifact that brought the Imperials to Garlas Malatar, and to ruin.
Related Quests
Edit
The Guiding Light: Find the way to an ancient Ayleid city and recover a historical artifact.
Set Name
Bonuses
Location(s)
Set Type
Auroran's Thunder

2 items: Adds 14-1206 Maximum Health
3 items: Adds 1-129 Spell Damage
4 items: Adds 17-1487 Spell Penetration
5 items: When you damage a nearby enemy with a single target ability, you summon a cone of lightning from your chest for 3 seconds, dealing 14-1285 Shock Damage every 0.5 seconds to enemies in the cone. This effect can occur every 6 seconds.

Depths of Malatar
Light Armor
Scavenging Demise

2 items: Adds 1-129 Weapon Damage
3 items: Adds 9-833 Weapon Critical
4 items: Adds 9-833 Weapon Critical
5 items: When you deal Critical Poison Damage to an enemy, summon the Scavenging Maw which attacks your enemy after 2 seconds. The Scavenging Maw deals 81-7000 Poison Damage and inflicts Minor Vulnerability for 15 seconds, increasing their Damage Taken by 8%. This effect can occur every 10 seconds.

Depths of Malatar
Medium Armor
Frozen Watcher

2 items: Adds 12-1096 Maximum Stamina
3 items: Adds 14-1206 Maximum Health
4 items: Adds 12-1096 Maximum Stamina
5 items: Summon a blizzard around you while blocking, inflicting 11-1000 Frost Damage every 1 second to enemies within your blizzard. Your blizzard has a 15% chance of inflicting Chilled on enemies damaged.

Depths of Malatar
Heavy Armor
Symphony of Blades

1 item: Adds 4% Healing Done
2 items: When you heal an ally who is under 50% of their primary resource, grant them Meridia's Favor, which restores 27-2325 Magicka or Stamina every 1 second for 6 seconds. This effect can occur every 18 seconds.  ; the resource returned is based off the target's highest maximum resource.

Monster Helm Sets
Notable Items
Edit
Achievements
Edit
Garlas Malatar also appeared in the Knights of the Nine DLC for Oblivion.
Although the dungeon entrance is located in the Gold Coast zone, you are not required to own the Dark Brotherhood DLC in order to access Depths of Malatar, as it can be directly ported into like any group dungeon.