Gravedust


ingred_gravedust_01

1
0.1
Alchemy Effects
1st
 Drain Intelligence
2nd
 Cure Common Disease
3rd
 Drain Magicka
4th
 Restore Endurance
Sources
# Samples
32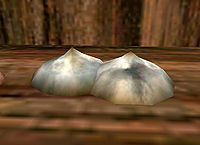 "Gravedust is spirit-affinitive dust taken from remains buried in consecrated ground."
Gravedust is a somewhat rare ingredient, as it is not found on any creature or plant, and can only be purchased or found in a few select locations.
Gravedust is one of only two ingredients in vanilla Morrowind which can be used to create Restore Endurance potions, the other ingredient being Scales. The Tribunal expansion adds two other ingredients with a Restore Endurance effect.
Combinations
Edit
2 Effects
Edit
| Desired Effect | Combine with: |
| --- | --- |
|  Drain Intelligence | Alit Hide, Coda Flower, Human Flesh, Raw Glass, Scrib Cabbage |
|  Cure Common Disease | Chokeweed, Daedra Skin, Green Lichen, Willow Anther |
|  Drain Magicka | Belladonna Berries, Bittergreen Petals, Bloat, Corprusmeat, Golden Sedge Flowers, Grahl Eyeball, Kresh Fiber, Rat Meat, Scamp Skin, Trama Root, Wolfsbane Petals |
|  Restore Endurance | Horn Lily Bulb, Scales |
The following vendors carry a restocking supply:
Loose samples can be found in the following locations:
Caldera, Verick Gemain: Trader (2)
Tel Uvirith, Seleth's House (2)
Vivec, Guild of Mages (1 loose, 1 in Small Chest)
Vivec, Hlaalu Alchemist (1 loose, 1 in Small Chest)
Ald'ruhn, Guild of Mages (1)
Balmora, Nalcarya of White Haven: Fine Alchemist (1 in Small Chest)
Balmora, Temple (1 in Small Chest)
Caldera, Surane Leoriane's House (1)
Endusal, Kagrenac's study (1)
Kogoruhn, Vault of Aerode (1)
Rethan Manor (1 in Small Chest)
Sadrith Mora, Anis Seloth: Alchemist (1 in Small Chest)
Suran, Ralds Oril: Trader (1)
Tel Aruhn, Tower Entry (1)
Tel Aruhn, Maren Uvaren: Enchanter (1 in Small Chest)
Tel Branora, Upper Tower: Therana's Chamber (1)
Vivec, Aurane Frernis: Apothecary (1 in Small Chest)
Vivec, Telvanni Apothecary (1 in Small Chest)
Vivec, Telvanni Monster Lab (1)
Vos, Falvillo's Endeavor, Upper Level (1 in Small Chest)