Trama Root


ingred_trama_root_01

10
0.1
Alchemy Effects
1st
 Restore Willpower
2nd
 Levitate
3rd
 Drain Magicka
4th
 Drain Speed
Sources
# Samples
13
Plant
Trama Shrub
Trama Root
 %
80
# Plants
1181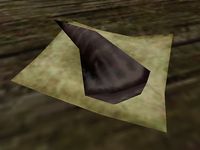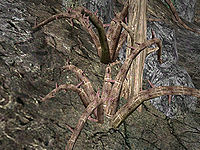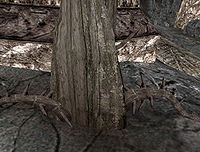 "A calming tea with modest magical properties is brewed from the thick, bitter-tasting root of the trama shrub. The Trama shrub grows in the bitter, ashy soils of the Ashlands, Molag Amur, and Red Mountain."
Trama Root grows in decent quantities in most of the dryer regions of Vvardenfell. Trama Shrubs can contain as many as two or three samples, while the roots mostly will have only one if any.
The following vendors carry a restocking supply:
Largest number of plants:

West Gash Region, [-8,6] (38)
Ashlands Region, [-2,7] (31)
Ashlands Region, [-5,9] (22)
West Gash Region, [-9,6] (21)
West Gash Region, [-8,5] (21)
Vivec, Redoran Waistworks (20)
Sheogorad Region, [-6,18] (19)
Ashlands Region, [-5,10] (18)
Ashlands Region, [-4,6] (18)
Molag Mar Region, [0,-3] (18)
Ashlands Region, [0,3] (16)
Ashlands Region, [0,4] (15)
Ashlands Region, [0,16] (15)
Ashlands Region, [1,17] (15)
Molag Mar Region, [2,-1] (14)
Molag Mar Region, [13,-8] (14)
Ashlands Region, [-1,4] (13)
Ashlands Region, [0,6] (13)
Ashlands Region, [7,15] (13)
Ashlands Region, [-2,17] (12)
Ashlands Region, [-1,16] (12)
Ashlands Region, [7,6] (12)
Ashlands Region, [-5,8] (11)
Ashlands Region, [-4,9] (11)
Ashlands Region, [-4,18] (11)
Ashlands Region, [7,11] (11)
Molag Mar Region, [1,-2] (11)
Sheogorad Region, [3,17] (11)
Ashlands Region, [-6,17] (10)
Ashlands Region, [-4,7] (10)
Ashlands Region, [-1,5] (10)
Ashlands Region, [1,14] (10)
Ashlands Region, [2,1] (10)
Ashlands Region, [6,15] (10)
Ashlands Region, [7,9] (10)
Ashlands Region, [-3,16] (9)
Ashlands Region, [3,16] (9)
Ashlands Region, [4,16] (9)
Ashlands Region, [7,7] (9)
Ashlands Region, [7,8] (9)
Ashlands Region, [7,10] (9)
Molag Mar Region, [1,-3] (9)
Molag Mar Region, [15,-5] (9)
West Gash Region, [-6,14] (9)
West Gash Region, [-5,6] (9)
Ald'ruhn, Arobar Manor Entrance (8)
Ald'ruhn, Morag Tong Guildhall (8)
Ashlands Region, [-6,15] (8)
Ashlands Region, [1,13] (8)
Ashlands Region, [1,15] (8)
Ashlands Region, [1,16] (8)
Ashlands Region, [7,5] (8)
Maar Gan, Shrine (8)
Molag Mar Region, [13,-2] (8)
Ashlands Region, [-5,17] (7)
Ashlands Region, [-3,5] (7)
Ashlands Region, [0,5] (7)
Ashlands Region, [2,14] (7)
Ashlands Region, [4,2] (7)
Molag Mar Region, [2,-3] (7)
Molag Mar Region, [4,-1] (7)
Molag Mar Region, [10,0] (7)
Molag Mar Region, [10,4] (7)
Molag Mar Region, [11,-5] (7)
Molag Mar Region, [13,-3] (7)
Ashlands Region, [-5,11] (6)
Ashlands Region, [-4,8] (6)
Ashlands Region, [-3,17] (6)
Ashlands Region, [-2,5] (6)
Ashlands Region, [-1,14] (6)
Ashlands Region, [3,15] (6)
Ashlands Region, [5,1] (6)
Molag Mar Region, [2,-2] (6)
Molag Mar Region, [3,-2] (6)
Molag Mar Region, [6,-3] (6)
Molag Mar Region, [7,-5] (6)
Molag Mar Region, [10,-1] (6)
Molag Mar Region, [11,0] (6)
Molag Mar Region, [14,-3] (6)
Sheogorad Region, [-5,18] (6)
Ashlands Region, [-4,16] (5)
Ashlands Region, [-2,18] (5)
Ashlands Region, [0,15] (5)
Ashlands Region, [1,-1] (5)
Ashlands Region, [2,15] (5)
Ashlands Region, [3,1] (5)
Ashlands Region, [5,12] (5)
Ashlands Region, [7,12] (5)
Balmora, Morag Tong Guild (5)
Ghostgate, Tower of Dawn (5)
Molag Mar Region, [3,-3] (5)
Molag Mar Region, [3,-1] (5)
Molag Mar Region, [8,-2] (5)
Molag Mar Region, [8,-1] (5)
Molag Mar Region, [9,-3] (5)
Molag Mar Region, [9,-1] (5)
Molag Mar Region, [12,-3] (5)
Molag Mar Region, [12,-1] (5)
West Gash Region, [-5,7] (5)

Loose samples: