Angelfish


xx

0008EB

Added by
Fishing
30
0.25
Alchemy Effects
1st
 Regenerate Health
2nd
 Resist Fire
3rd
 Fortify Marksman
4th
 Waterbreathing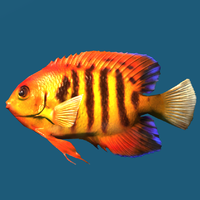 Angelfish is an ingredient added by the Fishing Creation.
Angelfish are rare and can only be caught when fishing with an Alik'ri Fishing Rod in temperate lakes. Two guaranteed Angelfish can be found in a pool within Ancestor Glade and can be caught without a fishing rod.
Combinations
Edit
In terms of combinations of two ingredients, Angelfish can be combined with 49 other ingredients.
2 Effects
Edit
Desired Effect
Combine with:

 

 Regenerate Health
Alocasia FruitCC (1.2×

 

,1.22×

 

), AmbrosiaCC (1.2×

 

,1.22×

 

), Emperor Parasol MossDB, Garlic, GleamblossomDG, Hydnum Azure Giant SporeCC (1.2×

 

,1.22×

 

), Luna Moth Wing, Minotaur HornCC (1.2×

 

,1.22×

 

), Namira's Rot, Ogre's TeethCC (1.2×

 

,1.22×

 

), Purple Butterfly WingCC, Screaming MawCC (4×

 

,0.03×

 

,0.11×

 

), Thorn HookCC (0.6×

 

,0.6×

 

,0.32×

 

), Vampire Dust, Void EssenceCC (1.2×

 

,1.22×

 

)

 

 Resist Fire
Ash Creep ClusterDB, Ashen Grass PodDB (1.33×

 

,1.36×

 

), Berit's Ashes, Bliss Bug ThoraxCC, Bone Meal, Dragon's Tongue, Fire PetalCC (1.33×

 

,1.36×

 

), Fire Salts, Fly Amanita, Gnarl BarkCC (1.33×

 

,1.36×

 

), Mudcrab Chitin, Sload SoapCC (1.33×

 

,1.36×

 

), Snowberries, Spawn AshDB

 

 Fortify Marksman
Canis Root, Corkbulb RootCC (1.25×

 

,1.27×

 

), Juniper Berries, Spider Egg

 

 Waterbreathing
Angler LarvaeCC, Chicken's Egg, Fungus StalkCC (1.6×

 

,1.67×

 

), GoldfishCC, Hackle-Lo LeafCC (1.6×

 

,1.67×

 

), Hawk's EggHF, Histcarp, Luminous RussulaCC (1.6×

 

,1.67×

 

), Red Kelp Gas BladderCC (1.6×

 

,1.67×

 

), Salmon RoeHF (12×

 

,15.4×

 

), Scalon FinCC (1.6×

 

,1.67×

 

), Scrib JerkyCC (1.6×

 

,1.67×

 

)