This page or parts of this page were previously transcluded from lore pages per this discussion.
This page should be checked for potential unrelated lore and other information. Please remove this banner when the page has been cleaned up.
County Anvil, on the Gold Coast
(view on map)
Government
Inns
Shops and Services
Guilds and Temples
Houses
Other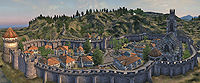 Anvil is a prosperous harbor city on the Gold Coast by the Abecean Sea at the very southwest end of Cyrodiil. It is the seat of County Anvil and it is located at the end of the Gold Road, west of Skingrad and Kvatch.
Anvil consists of five districts: Castle Anvil, Chapelgate, Westgate, Guildgate and Harborside. The Redguards have had a notable influence on local architecture, which is of a similar style to that of nearby Hammerfell. The city's graveyard is located across the street from the Chapel of Dibella. North of the graveyard lies Benirus Manor, one of Anvil's many stately manors. The city also houses chapters of the Fighters Guild and Mages Guild, the latter of which specializes in Restoration.
For more information about Anvil, see the lore article.
Quests Starting Here
Edit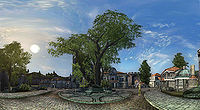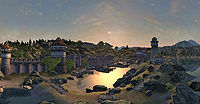 Fighters Guild
Edit
Mages Guild
Edit
Non-journal
Edit
Related Quests
Edit
A guaranteed magic item, the helmet Fin Gleam, can be found west of Anvil (map).

The helmet is located near the small island just west of the city. Go to the high ground at the middle of the north end of the island. You will find a large rock, with a small clearing in the grass just south of it. Stand at the south side of this rock, turn due west, walk down the hill to the water, dive in, and follow the land to the bottom. You should find skeletal remains with the helmet.
It's possible to climb over the walls and out the city. See this for details.
The chapel, despite being taller than most of the nearby buildings, cannot be seen from outside the city walls.
The door to Harborside Warehouse has the wrong owner, which sometimes results in Wilhelm the Worm being killed for trespassing.
Key:

Gate to the Gold Coast
Anvil Dock Gate
Anvil Castle Gate
Anvil Lighthouse