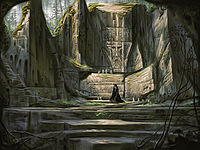 Quests are sorted by where they are assigned or by which faction assigns them. Skyrim also offers hundreds of smaller quests, all of which are listed under Miscellaneous Quests.
Quests by Type
Edit
Main Quest
Edit
Main Quest — Walkthrough for all parts of the game's main quest
Other Quests and Official Add-Ons
Edit
Quests by Location
Edit
Miscellaneous Quests
Edit
Miscellaneous — List of all miscellaneous quests, i.e., short quests that are displayed in the "Miscellaneous" section of your quest log
Some special varieties of miscellaneous quests include:
World Interactions — Random events that you may witness while exploring Skyrim
Alphabetical List
Edit
All Quests — An alphabetical list of all the quests in Skyrim
Quest Timing
Edit
Unfinished Quests
Edit
Achievements
Edit
Some categories of quests can be distinguished by the decorative knotwork displayed alongside the quests' titles in the Journal.
Last modified on 20 May 2018, at 06:54