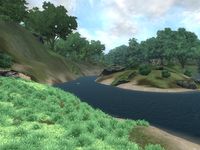 ●

Weather Table

●

●
Clear
35%
●
Thunder
5%
●
Cloudy
40%
●
Foggy
5%
●
Overcast
10%
●
Rain
5%
●
Snow
0%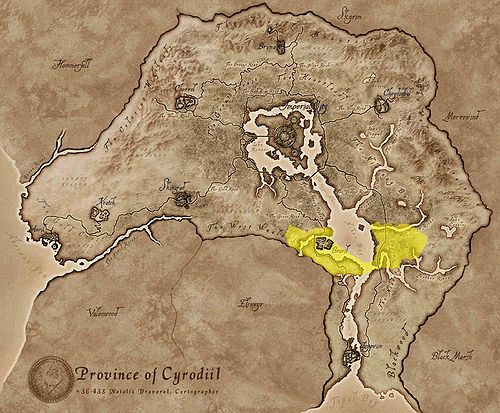 The Nibenay Valley is a region in eastern Cyrodiil centered around the River Niben. At the southern end of the region lies Niben Bay, while to the north, the region extends into the Heartlands around Lake Rumare. South of the region lies the dark and brooding Blackwood; in the west, the West Weald and Elsweyr; to the east, the Nibenay Basin; and to the northwest, the Great Forest. Running from north to south are the Green Road in the west and the Yellow Road in the east. The city of Bravil lies in the western portion of the region.
Bergamot grows particularly densely around Bravil, as does Mandrake and Nightshade. The eastern bank of the Niben River is thick with Foxglove, Monkshood, and Summer Bolete. Many other plants thrive in the region, including Nirnroot.
Nibenay Valley Places
Edit
A list of places that can be found within the region of Nibenay Valley.
Major Cities
Edit
Villages, Farms, and Settlements
Edit
Landmarks
Edit
Green Road — Main road from the Imperial City to Bravil and ultimately to Leyawiin.
Yellow Road — Eastern road from the Imperial City to Leyawiin.
Bodies Of Water
Edit
Daedric Shrines
Edit
Ayleid Ruins
Edit
Campsites
Edit
Nibenay Valley Quests
Edit
A list of all quests involving the region of Nibenay Valley.