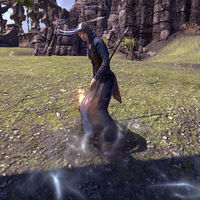 Off Balance is a debilitating effect that temporarily stuns an enemy, which can be caused by various attacks, but most commonly by Blocking a melee Heavy Attack. You can get out of it with a Break Free action. When an enemy is Off Balance, they can be knocked down with a Heavy Attack. Off Balance will last 5 seconds regardless of the source.
The Tactician perk from 120 points in The Atronach will set enemies Off Balance when you perform a Roll Dodge near them.
The Exploiter perk from 75 points in The Ritual will increase your damage done against Off Balanced enemies.
Bosses and other CC immune enemies will not get set off balance if their heavy attacks are blocked or their spells interrupted. The only way to apply Off Balance to boss type enemies is to damage them with the lightning version of Wall of Elements while they are Concussed.
Bosses will now gain 15 seconds of Off Balance immunity after Off Balance ends.