To meet our site's higher standard of quality, this article or section may require cleanup.
The user who placed this here had the following concern:
May need to be updated following changes in Update 35.
To leave a message about the cleanup for this article, please add it to this article's talk page.
Poison Arrow
Line
Bow
Line Rank
38
Cost

2700

 

Stamina

Cast Time
Instant
Duration
20 seconds
Target
Enemy
Range
28 meters
Morphs
Venom Arrow


Interrupts enemies hit if they are casting. Grants Major Brutality and Sorcery after casting. Reduces cost as ability ranks up

Poison Injection


Deals additional damage to low health enemies.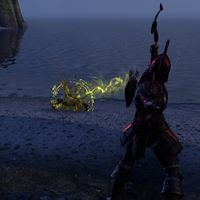 Poison Arrow: Shoot an arrow coated in Baandari poison at an enemy, dealing

[1498 / 1514 / 1530 / 1548]

Poison Damage and an additional

[4521 / 4554 / 4612 / 4660]

Poison Damage over 20 seconds.
Venom Arrow: Cost:

[2700 / 2610 / 2520 / 2430]

 

Stamina

.
Shoot an arrow coated in Shadowscale poison at an enemy, dealing 1549 Poison Damage and an additional 4673 Poison Damage over 20 seconds. If the enemy hit is casting an ability they are interrupted, set Off Balance, and stunned for 3 seconds. After casting you gain Major Brutality and Sorcery, increasing your

Weapon

and

Spell Damage

for 20 seconds.
Poison Injection: Shoot an arrow coated in Baandari poison at an enemy, dealing 1549 Poison Damage and an additional 4673 Poison Damage over 20 seconds. Deals up to

[105 / 110 / 115 / 120]

% more damage to enemies under

50%

 

Health

.
Poison Arrow deals poison damage to a target, and additional damage over time. It can be a very effective attack on single targets, especially when combined with other abilities. The Poison Injection morph makes it particularly effective as an execution spell, as it is more effective when your target is at low health. Alternatively, the Venom Arrow morph interrupts and stuns spellcasting a spellcasting enemy.
The poison damage does not stack, so there is no benefit to hitting the same target again while the previous poison is still in effect. Use other attacks instead while waiting for the first poison to expire. This does not apply if another Poison Arrow was cast by a different player.
Depending on latency, it may appear that the damage over time is not occurring, but if you wait long enough, the target will appear to receive all of the poison damage at once (which is usually enough to kill most normal enemies). This can be problematic when playing with other players, as they may not realize that the target they are attacking is about to die anyhow from the poison.
Even without the poison damage, this can be an effective attack as a follow up to a regular heavy attack. Pulling back to a full draw on a bow takes a few seconds, but the Poison Arrow fires instantly (at the cost of some Stamina). Thus it's best to fire the regular shot first (before the target sees you and starts attacking) and immediately follow it with a Poison Arrow. Often, this two-shot strategy is enough to kill most regular enemies around your own level.
Poison Injection is a recommended morph for the Venomous Dragon, Umbral Assassin, Arcane Warrior, Luminous Warrior, and Savage Stalker builds.
The Caustic Arrow set from Dragonstar Arena increases your

Weapon Damage

against enemies affected by this ability.
The Piercing Spray set from Asylum Sanctorium can cause this ability to do more damage when combined with Arrow Spray.
Patch Notes
Edit