Roar
Line
Werewolf
Line Rank
5
Cost

4303

 

Stamina

Cast Time
Instant
Duration
4 seconds
Target
Area
Area
6 meters
Morphs
Ferocious Roar


Increases the speed of your Heavy Attacks after casting.

Deafening Roar


Applies Major Breach and Minor Maim to enemies, reducing their Resistances and damage done.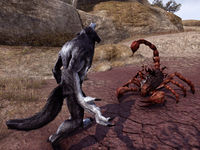 Roar instills fear in up to 3 nearby enemies, causing them to flee and be set off balance. This works well in combination with Pounce, as that ability will stun off-balanced enemies, and can only be used at a distance, so having your target running away and off-balanced gives you a perfect opportunity for a follow-up Pounce. The Ferocious Roar morph extends this by off-balancing and disorienting other nearby enemies when you kill a target who is fleeing. Or you can choose Rousing Roar, which increases your allies' weapon damage.
Patch Notes
Edit