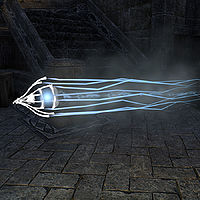 Wisps are floating creatures that are usually found around Wispmothers, but they can potentially be found on their own. They are typically hostile, though there is a tame one that can be found in The Crystal Vial in Vulkhel Guard.
Skills and Abilities
Edit
As flying creatures, Wisps are immune to roots and snares.
Assault

A basic melee attack that does minor shock damage.

Dying Blast

When low on health, the wisp self destructs dealing moderate shock damage in a circle around itself.
Locations
Edit