Online:Fiery Grip
The UESPWiki – Your source for The Elder Scrolls since 1995
This article could benefit from an image
of:
Morphs
See Help:Images for information on how to upload images. Please remove this template from the page when finished.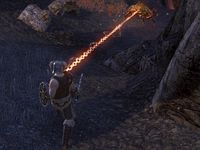 Fiery Grip deals fire damage and pulls the target of the attack towards you, and also increases your Movement Speed for a few seconds. This can be useful for getting close to ranged enemies who generally try to attack from a distance. It can also be used to pull a single enemy out of a group and deal with them individually. With a little luck and careful judgement of distance, you can sometimes do this without alerting the whole group, allowing you to deal with them one at a time. The Empowering Chains morph will pull you to the enemy instead and grants you Major Empower, increasing the damage of your next attack. Or you can choose Unrelenting Grip, which will refund its casting cost if the enemy cannot be pulled. It still deals the Fire Damage if this occurs, at zero cost, so it can be a cheap (if not very powerful) fire attack on immovable enemies.
In some cases, the target will be unable to move. This can happen in various situations:

The target is knocked down or immobilized by another attack.
The target has recently been moved by another player also using Fiery Grip.
The target is charging up a Heavy Attack.
Most boss level enemies cannot be pulled.
Some targets are always immobile, e.g. Stranglers.
With the Unrelenting Grip morph, you will be refunded the

Magicka

cost if the target cannot be pulled.
Using this ability around other players can cause confusion or even annoyance. As a matter of etiquette, it's probably best to avoid using it on a target who is already engaged with another player, unless they appear to be in need of a rescue.
Unrelenting Grip was added in Update 9, replacing Extended Chain, which increased the range and reduced the cost.
Unrelenting Grip is a recommended morph for the Dragonknight Initiate build.
Patch Notes
[
edit
]