Marshmerrow


ingred_marshmerrow_01

1
0.1
Alchemy Effects
1st
 Restore Health
2nd
 Detect Enchantment
3rd
 Drain Willpower
4th
 Drain Fatigue
Sources
# Samples
418
Plant
Marshmerrow
 %
90
# Plants
2544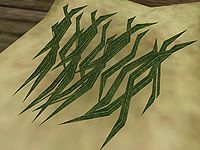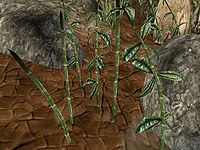 "The sweet pulp of marshmerrow reeds is a delectable foodstuff, and when eaten fresh or prepared, it has modest healing properties. Marshmerrow is an important cash crop of the farms and plantations of the Ascadian Isles, but it also grows wild in the Grazelands and on Azura's Coast."
Marshmerrow is one of the most abundant ingredients in Morrowind, growing in large numbers wherever there is water. Synnolian Tunifus will ask you for some samples in Gathering Marshmerrow, his first quest for the Imperial Cult.
The following vendors carry a restocking supply:
Largest number of plants:

Azura's Coast Region, [15,2] (112)
Azura's Coast Region, [13,12] (103)
Azura's Coast Region, [13,11] (97)
Azura's Coast Region, [15,8] (92)
Grazelands Region, [13,7] (86)
Grazelands Region, [11,5] (85)
Grazelands Region, [12,13] (84)
Azura's Coast Region, [14,10] (83)
Azura's Coast Region, [14,8] (78)
Azura's Coast Region, [13,3] (78)
Azura's Coast Region, [13,4] (64)
Grazelands Region, [11,6] (64)
Grazelands Region, [12,6] (62)
Azura's Coast Region, [14,2] (59)
Grazelands Region, [12,7] (56)
Azura's Coast Region, [12,-9] (48)
Azura's Coast Region, [13,5] (43)
Azura's Coast Region, [14,-10] (41)
Grazelands Region, [13,6] (39)
Ascadian Isles Region, [1,-9] (38)
Ascadian Isles Region, [4,-5] (38)
Ascadian Isles Region, [4,-8] (36)
Azura's Coast Region, [14,3] (35)
Azura's Coast Region, [15,9] (34)
Azura's Coast Region, [13,10] (33)
Grazelands Region, [13,8] (32)
Azura's Coast Region, [15,10] (32)
Azura's Coast Region, [12,14] (27)
Azura's Coast Region, [9,17] (24)
Azura's Coast Region, [13,13] (24)
Azura's Coast Region, [14,-11] (22)
Azura's Coast Region, [12,-11] (21)
Azura's Coast Region, [12,-10] (21)
Azura's Coast Region, [14,-9] (21)
Ascadian Isles Region, [9,-12] (21)
West Gash Region, [-14,14] (20)
Azura's Coast Region, [9,19] (19)
Azura's Coast Region, [16,-8] (19)
Grazelands Region, [11,15] (16)
Azura's Coast Region, [14,-12] (15)
Ascadian Isles Region, [0,-6] (15)
Azura's Coast Region, [16,-6] (15)
Azura's Coast Region, [15,-13] (15)
Azura's Coast Region, [17,-4] (14)
Ascadian Isles Region, [8,-11] (14)
Azura's Coast Region, [8,-10] (14)
Azura's Coast Region, [10,-11] (14)
Azura's Coast Region, [11,-10] (14)
Azura's Coast Region, [15,-12] (14)
Azura's Coast Region, [15,-10] (14)
Ascadian Isles Region, [3,-6] (13)
Azura's Coast Region, [15,-11] (13)
Sheogorad Region, [-1,20] (12)
Ascadian Isles Region, [0,-7] (12)
Azura's Coast Region, [17,-1] (12)
Sheogorad Region, [-2,21] (12)
Ascadian Isles Region, [5,-8] (12)
Azura's Coast Region, [15,3] (11)
Azura's Coast Region, [14,4] (11)
West Gash Region, [-14,13] (11)
Azura's Coast Region, [16,2] (11)
Azura's Coast Region, [16,7] (11)
Azura's Coast Region, [13,-13] (10)
Azura's Coast Region, [13,15] (10)
Azura's Coast Region, [18,-2] (10)

Largest number of loose samples:

Ainat (35 in 5 Crates)
Ascadian Isles Region, [4,-5] (30 in 2 Barrels)
Obscure Shipwreck, Upper Level (15 in Barrel)
Tel Branora, Fadase Selvayn: Trader (15 in Barrel)
Ald'ruhn, Hanarai Assutlanipal's House (14 in 2 Crates)
Balmora, [-3,-3] (14 in 2 Crates)
Balmora, [-3,2] (7 in Crate)
Balmora, Council Club (7 in Crate)
Balmora, Drarayne Thelas' Storage (7 in Crate)
Balmora, Eight Plates (7 in Crate)
Caldera Mine (7 in Crate)
Caldera, Ghorak Manor (7 in Crate)
Caldera, Shenk's Shovel (7 in Crate)
Caldera, Surane Leoriane's House (7 in Crate)
Dagon Fel, End of the World Renter Rooms (7 in Crate)
Dagon Fel, The End of the World (7 in Crate)
Dubdilla (7 in Crate)
Sha-Adnius (7 in Crate)
Shunned Shipwreck, Upper Level (7 in Crate)
Suran, Ibarnadad Assirnarari: Apothecary (7 in Crate)
Vos, Menus Felas's Farmhouse (7 in Crate)
Ald'ruhn, Cienne Sintieve: Alchemist (5)
Indarys Manor (5)
Holamayan Monastery (4)
Vivec, St. Olms Farmers and Laborers Hall (4)
Ahemmusa Camp, Wise Woman's Yurt (3)
Ashmelech, (3 in Small Chest)
Erabenimsun Camp, Wise Woman's Yurt (3)
Gnisis, Madach Tradehouse (3)
Vivec, Hlaalu Edryno Arethi's House (3)
Zainab Camp, Wise Woman's Yurt (3)
Ald'ruhn, Guild of Mages (2)
Caldera, Verick Gemain: Trader (2)
Ghostgate, Tower of Dusk (2)
Gnisis, Man-Ilu Hut (2)
Moonmoth Legion Fort, Interior (2)
Sadrith Mora, Anis Seloth: Alchemist (2)
Tel Aruhn, Tower Living Quarters (2)
Urshilaku Camp, Wise Woman's Yurt (2)
Vivec, Black Shalk Cornerclub (2)
Vivec, Telvanni (2)
Related Quests
Edit