Arrows are the required ammunition for bows. Arrows cannot be enchanted or tempered.
Unless the Dawnguard add-on has been installed, arrows cannot be created at forges. However, with Dawnguard, it becomes possible to craft standard arrows using 1 piece of firewood plus an appropriate metal ingot. The appropriate Smithing perks are necessary to craft each variety of arrow, but arrows still cannot be tempered. The pages linked in the following table provide more information.
Special Arrows
Edit
With the Dawnguard add-on, two special elven arrows are added; they give different effects when fired at the sun using Auriel's Bow.

Bolts (and crossbows) are only available if the Dawnguard add-on has been installed. Bolts are the required ammunition for crossbows. Bolts cannot be enchanted or tempered, but several varieties of bolts can be crafted if you join the Dawnguard and complete a series of side quests.
‡
This item can only be acquired or crafted by siding with the Dawnguard. See
Ancient Technology
for details.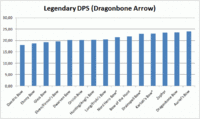 To the right is a chart of damage per second values for Legendary versions of bows firing Dragonbone arrows. The chart does not include bonus damage from the Archery skill, the Overdraw perk, or the Quick Shot perk; however, the first two of these would affect all the values equally and would not change the relative order of bows. Quick Shot does affect them unequally, due to how bow speed works; see the Archery article for a more in-depth analysis and discussion.
Giving ammunition to a follower will result in that follower making use of them, provided the given ammunition is better than the follower's default ammunition. In addition, no matter how many times your follower uses this gifted ammunition, the number in their inventory will never decrease; and since you can collect missiles that miss their target, as well as some that hit, you can use this strategy as a good source for free ammunition of your choice.
Arrows can be clearly visible on human corpses with "Empty" note.