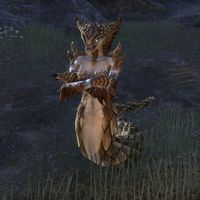 Lamias are a species of amphibious beastfolk. They have a serpentine appearance, with the torso of a woman and the tail of a snake.
Skills and Abilities
Edit
Strike

Basic melee attack with claws that deals minor physical damage.

Shockwave

Basic ranged attack that deals minor shock damage.

Harmony

Howling Strike

The lamia howls, dealing moderate magic damage.

Resonate
Unique Lamias
Edit
In Arx Corinium:
Lamia: "Deal with these trespassers."
Lamia: "Sisters to arms!"
Lamia: "You're no match for us."
Lamia: "This land belongs to the lamias."