Friendly Snakes
Edit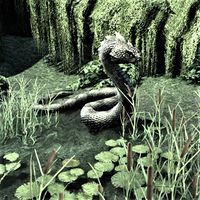 During Bosmer Insight, if you choose the way of the snake, towards the end of the trail to become a member of the Brackenleaf's Briars, a companion creature in the form of the snake will accompany you in completing the trail.
Related Quests
Edit
Bosmer Insight: Go on a spirit journey and learn the ways of the forest.
Passive Snakes
Edit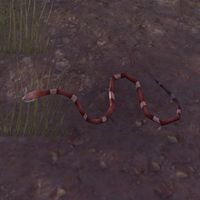 Snakes are passive creatures often seen slithering in grass.
Some Giant Snake enemies in Craglorn are simply called "Snakes", and are slightly smaller than usual.

Hostile Snakes
Edit
These Snakes are summoned by Syvarra of the Deep during battle.
Abilities
Edit
Poison Spit

Strike

Physical Attack
---
This article could benefit from an image.
See Help:Images for information on how to upload images. Please remove this template from the page when finished.
Snakes can be found at Zalgaz's Den.