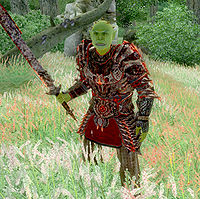 Marauders are aggressive, blade-wielding NPCs. They are always hostile towards the player and will attack you on sight. Marauders are regularly found in fort dungeons, though you may find them occasionally in other types of dungeons as well, as summarized at Marauder Dungeons.
There are three basic varieties of Marauder.
The most common variety is identified simply as Marauder, and is blade-weapon melee fighter of Marauder class
Next most common variety is the Marauder Archer, a Marauder Archer-class NPC equipped with a bow.
The least common marauder is the Marauder Battlemage, a spell-casting marauder of the Marauder Battlemage class.
Marauders are also frequently accompanied by dogs, who may actually appear in place of a marauder; this is usually to the player's benefit, as the dog is much easier to kill than a marauder.
In addition, Marauder Warlords are the marauder bosses, and are only found in dungeons. Eight dungeons have a single Marauder Warlord, typically as the final enemy you will encounter.
Lastly, you may encounter Dead Marauders. One Orc and one Nord marauder have been killed by other denizens of their homes before you ever arrive. You can find them in Dasek Moor, Fort Blueblood (×2), Fort Coldcorn and Fort Urasek.
All marauders are members of the Marauder Faction, which gives them a slight liking for Creatures and a pathological hatred of bandits.
There are several specialized types of marauders, who take part in a series of Mages Guild, Dark Brotherhood and Miscellaneous quests. These include:
Name
Race(s)
Level
Armor
(all Heavy)
Weapon
Other
Dead Marauder


00065643
00065E39


Nord
Orc
1
Boots
Cuirass
(none)
Pants
Marauder


0003DC62
0003DC64
0003DC61
0003DC63
0003DC60
0003DC5D
0003DC5F
00069AD8


Orc
Nord
-2 to -4
Boots
Cuirass
Gauntlets (25%)
Greaves (25%)
Shield (25%)
Long Blade*
Repair Hammer (25%)
Pants
Marauder
(Fort Blueblood only)


0003FB81


Nord
-1
Boots
Cuirass
Shield (25%)
Blade
Pants
Marauder Archer


00035FD2
00035FD3
00035FD4
00035FD5
00069AD9


Imperial
Argonian
-2 to -4
Boots
Cuirass
Bow*
Arrows*
1 Iron Arrow
Dagger*
Repair Hammer (25%)
Pants
Marauder Archer
(Fort Blueblood only)


0003FB83
0003FB86


Imperial
Argonian
-2 to -3
Boots
Cuirass
Bow
Arrows
Dagger
Pants
Marauder Battlemage


00035FDC
00035FDD
00035FD6
00035FD9
00069AD6


Altmer
-2 to -4
Light Armor Boots
Cuirass
Dagger*
Staff (10%)
Multiple spells
0-3 Restore Health Potion**
Pants
Marauder Battlemage
(Fort Blueblood only)


0003FB84
0003FB85


Altmer
0
Light Armor Boots
Cuirass
Dagger
Multiple spells
Marauder Warlord


00035FDE
00035FDF
00035FE0
00035FE1


Imperial
Nord
0
Boots*
Cuirass*
Gauntlets* (25%)
Greaves*
Helmet* (25%)
Shield* (50%)
Long Blade*
2 Repair Hammers (25% each)
Pants
Shoes
Marauder Warlord
(Fort Blueblood only)


0003CD2B


Orc
+2
Boots
Cuirass
Gauntlets (25%)
Greaves (50%)
Helmet (25%)
Shield (50%)
Long Blade
Pants
Shoes
Fort Blueblood Key
* This item may be enchanted.
** The amount of possible potions received and the chance of how many changes depending on your level.
Level: This is the NPC's level relative to your character
Inventory
All items without a percentage next to them are guaranteed to be present on an NPC.
Items with a percentage will only appear randomly
The quality of armor is determined by the Armor Leveled List; for weapons see the Weapons Leveled List.
Marauders always carry heavy armor.
Marauder Battlemage Spells
Edit
Battlemages have an incredibly large amount of magicka: they actually have three birthsigns: one for NPC Mages, which provides them with +50 magicka, one just for Battlemages which adds another 25 Magicka and the Atronach birthsign also available to the player. Added to their Altmer bonus, this means that they have +325 maximum magicka. It is therefore highly recommended that you use a silence spell or silence enchanted weapon against them to prevent the use of spell casting, Damage Magicka is generally not useful at all due to the repeated casting it would take to reduce the marauder's magicka to zero.
Each Battlemage will know how to cast four randomly selected spells: two Destruction, one Conjuration and one Restoration spell. In each case, the effect is randomly determined from the following list; the strength of the spell is randomly determined based on the battlemage's skill level. The possible effects for each school are:
Conjuration (minor): Bound Armor (Boots, Gauntlets, Greaves or Helmet), Bound Weapon (Axe or Dagger) or Summon (Ghost, Scamp, Skeleton or Zombie).
Destruction (minor and major): 1 Damage Health, Drain Health, Fire Damage, Frost Damage or Shock Damage (the damage spells may all be on touch or on target) and a second, more powerful, one with same effects plus Disintegrate Weapon and Armor.
Restoration (major): Absorb Fatigue, Absorb Health, Absorb Magicka, Absorb Skill (all on touch; except Acrobatics, Alchemy, Armorer, Athletics, Mercantile, Security, Speechcraft) or Restore Health.