The Black Rock Pirates are five undead Dunmer who haunt Black Rock Caverns along with their captain. It seems their ship came to grief in the depths of the caverns many years ago and they have remained there ever since.
Three pirates can be found in the deepest part of the cave, Lost Black Rock Chasm, with their captain. Two of them also appear when the necessary sequence of switches are activated in the first two zones. In the chasm, their time is spent endlessly pacing around the wreck of their vessel.
Despite being in the Marauder faction, all three pirates wear light armor, leveled boots and a cuirass, along with a random pair of lower class pants. They are all armed with a steel cutlass.
As a ghost, all three cannot be damaged by normal weapons and have 100% resistance against disease, poison, and frost. They can also walk on water. Another ghostly ability is their "Ghostly Touch" spell, which damages fatigue by 9 points and drains it by 18 points as well as inflicting 10 points of frost damage. They can also become invisible for 15 seconds. Neither of these abilities can be overcome by silence spells. In addition, the pirates each possess one leveled Restoration spell.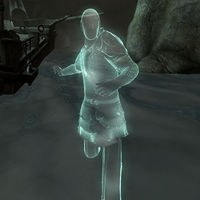 In addition to a cutlass, this pirate fights using a leveled bow and arrows at a long distance. He is one of the two pirates who attack after you activate the switches to reveal the hidden cavern.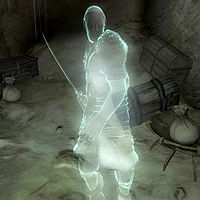 Three of these pirates wander around in the Lost Black Rock Chasm.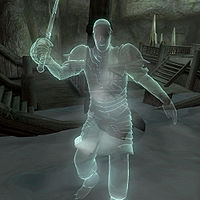 This pirate is one of the two who attack after you activate the switches to reveal the hidden cavern.