Formerly known as the Topal Legionary Academy, this venerable structure produced some of the Akaviri Potentate's greatest commanders. Now, little more than ghost stories haunt its ruined interior.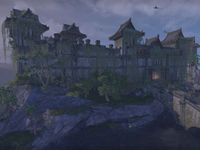 The Forsaken Citadel is a delve found northeast of Senchal. The site was formerly known as the Topal Legionary Academy and trained some of the Akaviri Potentate's greatest tacticians. In the face of the Knahaten Flu in Southern Elsweyr, the citadel's commander shut the gates and the garrison was never heard from again.
A copy of Demon from the East is sitting on a bench in the library. An unsent letter is on a writing desk in the same room. A copy of The Bounty and the Shields is on a table in the barracks. Hiijar's Tapestry Scrap is on the right-hand side wall, in the back of the room upstairs in the Grand Lecturer's Hall.
Related Quests
Edit
Clearing the Dungeon
Edit
Explore and clear the Forsaken Citadel.
To clear this dungeon and mark it as complete, you need to kill the following bosses:
Sublocations
Edit
Forsaken Citadel Dungeons
Edit
The citadel's dungeons. Can be accessed from the Courtyard or by jumping down the hole in the ground near the top left corridors in the map. The dungeon's skyshard is located here. frogs, sandroaches, centipedes and shroom beetles can be found here.
Forsaken Citadel Courtyard
Edit
The courtyard. butterflies and torchbugs can be caught out here.
Grand Lecture Hall
Edit
A place where lectures took place. The walls are lined with bookshelves, and the delve's boss, Commandant Weston, can be found here. Hiijar's Tapestry Scrap is located on the wall upstairs. There is a locked Back Room upstairs that cannot be picked.
Achievements
Edit
There is one Achievement associated with this location:
At some point in development, this delve was known as the House of Embers. The name, or references to it, persist in some books and dialogue.