Also known as Pellitine, this land's complex history stretches back into antiquity. Long ago, Khajiiti aristocrats ruled the southern kingdoms with grace and refinement. Now, in the wake of the Knahaten Flu, criminals, Imperial remnants, and Khajiiti patriots all compete for the reins of power.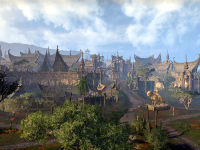 Southern Elsweyr is a tropical region in southern Tamriel that covers the Quin'rawl Peninsula. It is available with the Dragonhold DLC, and the story ties up the Season of the Dragon.
Each image is relevant to its location, and each number corresponds to the key on the right.