Events in 2020
Edit
January 9 — January 13, 2020
The 2020 Undaunted Celebration event was identical to the canceled event in late 2019. Notable was the addition of Opal Undaunted Style pages, reskins of Undaunted Styles with a opalescent sheen and blue particle effects, which can drop from dungeons or bought from The Impresario.
You also can earn three Event Tickets and a Hefty Undaunted Reward Box the first time you kill the final boss in any Group Dungeon each day, for a total of 15 Event Tickets. Subsequent dungeon runs on the same day will drop Undaunted Reward Boxes. This event features no new Indrik berries.
January 23 — February 4, 2020
The Midyear Mayhem encore allowed players to earn rewards by participating in the Alliance War, Battlegrounds, and the fight to control the Imperial City. Throughout Midyear Mayhem players could also earn Event Tickets and purchase the first two Indrik Berries required to evolve the Nascent Indrik mount into a Spectral Indrik mount.
February 20 — March 3, 2020
The first Murkmire Celebration Event which will take place in Murkmire, where players can earn rewards such as Murkmire Strongboxes by participating in certain activities, such as defeating monsters and bosses, looting containers or harvesting crafting nodes. It was also the first chance to obtain the Spectral Berries of Growth.
A maximum of three Event Tickets can be earned a day per an account during the event by defeating zone monsters and bosses, for a total of 39 Event Tickets.
March 26 — April 2, 2020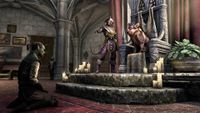 The Jester's Festival Stupendous Boxes has new prizes which include the Fragments for the Sovereign Sow pet, the first Stupendous Box obtained each day is guaranteed to drop a fragment. In addition to this, the boxes also can contain "Jokey Stealies" which could be sold to vendors.
The 2020 festival is the last chance to purchase the Spectral Berries of Ripeness, which can be used to transform a nascent Indrik into its Spectral form, as well as the accompanying Haunting Indrik non-combat pet. Players can receive three Event Tickets each day for the first event quest completed, with a total of 24 possible tickets by the end of the event.
April 2 — April 14, 2020
During the event, complete any of the game's daily quests to Anniversary Jubilee Gift Boxes.
The Jubilee Cake, in addition to the XP buff, also grants three Event Tickets per day. You can earn two additional tickets per day by defeating any boss in the game. This means you can earn a max of five tickets per day, for up to 65 tickets total. New additions this year include Icebreath Indrik Berries, Jephrine Paladin Style pages, and replica Jubilee Cake furnishings.
Vampire Week
Edit
May 8 — May 15, 2020
It's Vampire Week! Sink your fangs into Greymoor's most bloodthirsty monsters with Vampire-themed content on elderscrollsonline.com and social channels all week. Keep an eye out for into on Dark Heart of Skyrim's new villains, the updated Skill Line, and more!
Vampire Week was an event held to promote the rework of the Vampire skill line and the release of Greymoor, which was held over social media and promoted in-game. A competition with the hashtag #VampireWeekVote was held to determine the top Vampire of the series. Meet the Character - Fennorian was also released during the event. The final poll was held between Serana and Count Verandis Ravenwatch, with Serana ultimately winning the vote. The event ended with a Vampire Closet Cosplay where participants would use whatever they had lying around that could pass as Vampire gear.
June 25 — July 7, 2020
A second Midyear Mayhem event for 2020, the event will allow you to earn rewards from participating in PVP activities. This event introduces the Second Legion Outfit Style and brings back the Legion Zero Style Pages which can be earned by killing Imperial City bosses in the sewers and above ground. Standard-Bearer Emotes can be earned by collecting 10 Standard-Bearer's Emblems from the first Pelinal's Midyear Boon Box opened a day and combining them.
During this event you can earn up to 4 tickets a day by completing two PVP activities, one of the Alliance War or Battleground daily quests and one of the Imperial City daily quests. The Impresario will stock two new berries, the Icebreath Berries of Growth and Icebreath Berries of Ripeness as well as the Rimedusk Indrik pet. She will also sell bound pages from the Second Legion and Legion Zero Styles, as well as the Standard-Bearer Emotes.
Finally, resource nodes within Cyrodiil and the Imperial City will drop double and Adhazabi Aba-daro will be at your alliance headquarters for the entire event.
July 23 — August 4, 2020
This year was the first instance of the Summerset Celebration Event, which was held in Summerset. The following was available during the event:
Earn Glorious Summerset boxes from daily quests in Summerset
Double rewards from Daily Quests, World and Delve Bosses, and Psijic Portals
Resource Nodes and creature crafting drops are doubled on Summerset and Artaeum
Will include an the Snowhawk Mage style, obtained from Summerset Coffers during the Summerset Celebration.
Events Tickets were also available, with a maximum of three tickets per day. Along with Alinor themed furnishings, the Impresario also sold the first two berries for the latest Indrik Mount, the Mossheart Indrik.
September 3 — September 15, 2020
The 2020 Imperial City Celebration event introduces Legion Zero Strongboxes as rewards or loot during the event's duration. A Glorious Legion Zero Strongbox can be earned daily after your first time completing an Imperial City district daily quest or defeating the final boss within the Imperial City Prison or White-Gold Tower dungeons; these have a guaranteed chance to contain a page for the Xivkyn motif or the new Legion Zero Vigiles and Tools of Domination styles. After this, you can earn regular Legion Zero Strongboxes as random loot or from dungeon chests; these have a rare chance to contain a style page, mainly containing Tel Var Stones and other minor rewards.
Three Event Tickets can be earned per day, after completing an Imperial City daily quest or defeating the final boss from the two Imperial City dungeons. The Impresario will sell bound pages for the Legion Zero Vigiles and Tools of Domination styles as well as the Indrik feathers and three of the berries needed for the Mossheart Indrik mount.
September 23 — October 5, 2020
Lost Treasures of Skyrim is a Greymoor-based event available to players who own the Greymoor Chapter. Various rewards can be earned by completing activities in Western Skyrim. Double rewards for all Dailies and Trial quests, Bosses and Resource Nodes will be made available during this event.
Much like with Summerfall and Dragon Rise, there are tiered rewards which can be earned by the community. In this event, unearthing Antiquities around Tamriel earns points towards the rewards ladder. These community rewards will include the Horror Within Face and Body Markings, the Orchidfall Vale Fawn pet and the Antiquarian's Alpine Gallery along with the House Guest Antiquarian Phedre.
While this is going on, Boxes of Gray Host Pillage can be earned from completing daily quests as well as other sources. The first Daily or Trial quest completed a day will earn you 3 Event Tickets also with the Bulging Box of Gray Host Pillage.
The Impresario will be selling the entire set of Mossheart Indrik Berries, the Sapling Indrik pet and bound pages of the Sovngarde Style which is also introduced during this event.
October 22 — November 3, 2020
The Witches Festival 2020 began on October 22 at 10:00AM EDT, and will run until November 3 at 10:00AM EST. Throughout this terror-filled term, you can receive repulsive rewards in the form of spoopy Plunder Skull containers, a 100% XP boost, Event Tickets, and collectibles. This event is similar to the previous year, but with the addition of a new style and memento.
The 2020 festival was also the first chance for players to buy the first two Crimson Indrik Berries (Crimson Berries of Bloom and Crimson Berries of Budding) from The Impresario, used to mutate the Nascent Indrik into a Crimson Indrik. Players can receive three Event Tickets each day for after killing a boss, with a total of 39 possible tickets by the end of the event.
The drops from Dremora Plunder Skulls in the 2020 event are identical to the 2019 event drops, but with the addition of Grave Dancer Weapon Style pages. These past drops include festival writs, Glenmoril Wyrd Style armor pages and treasure maps for the weapon pages, and Dremora motifs.
Explorer's Celebration
Edit
November 12 — November 16
For this weekend only, you can get double XP, resource node drops, and gold in any zone in Tamriel during the Explorer's Celebration! The limited-time Explorer's Celebration begins Thursday, November 12th, and runs through November 16th, 2020. Players will receive additional rewards for the following in-game activities:
Double drops from harvest nodes (excluding fishing holes, crafting surveys and insects such as torchbugs)
Double XP gains from every source (This stacks with other XP boosts such as scrolls or group multipliers)
Double gold earned from monster kills, quest rewards, and similar sources
These bonuses are available to all players in any zone in Tamriel—including Markarth's two new zones, the Reach and Arkthzand Caverns!
Note that the Explorer's Celebration doesn't grant Event Tickets and doesn't have its own unique quests, Achievements, or collectibles associated with it. Additionally, the Impresario isn't available during this limited period.
Undaunted Celebration
Edit
December 3 — December 15, 2020
Are you Undaunted? Help test the Undaunted Celebration and defeat challenging dungeons for bonus rewards! The first final dungeon boss you defeat in a day will drop 3 Event Tickets and a special Glorious Undaunted Reward Box.
This box contains an assortment of valuable goods, motif pages, and a guaranteed chance for one of the new style pages for this event's Opal weapons, themed for specific bosses in Direfrost Keep, the Imperial City Prison, Elden Hollow II, or Spindleclutch.
Defeating those bosses on Veteran Hard Mode has a chance to drop the Opal shoulder style page for those bosses as well!
Subsequent dungeons you complete will continue to award slightly-less-valuable Undaunted Reward Boxes, which still have a chance to drop those weapon style pages.
The Impresario offers the style pages for the Opal equipment for 5 tickets each, as well as the first three berries from the Crimson Indrik.
New Life Festival
Edit
December 17 — January 5, 2021
The New Life Festival returns for testing! This year, however, we have some special treats for you…
First, we're introducing the long-requested Imperial New Life Quest, celebrating the Imperial tradition of the Old Life Remembrance.
As always, the first New Life quest you complete each day will award you Event Tickets (3, this year), and any completed New Life quests will award you a New Life Festival Box.

This box contains an assortment of valuable and flavorful items, along with a chance for motif pages, style pages, furnishings, or special charity writs.
The charity writs from years prior to 2019 are now sunset; if you have those writs, you can still complete them, they just won't drop anymore. However, this year there are several new Imperial Charity Writs which, along with the Deep Winter Charity Writs that still drop, all count toward prior achievements involving these writs.

Completing an Imperial Charity Writ will reward you a random page from this year's wintry weapon selection, the Rkindaleft Dwemer style.
Lastly, the Impresario has brought back ALL of 2020's Indriks berries and feathers for your pursuit, and will sell Rkindaleft Dwemer weapon style pages for 5 tickets each.
Holiday Events
DLC Events
Special Events
Other Events
By Year