This article is about the lesser Daedra found in Morrowind. For quests from the Daedric Princes, see Daedric Quests.
Daedra are divine beings that did not take part in the creation of the Mundus, and thus retain the full breadth of their power. They have a very real impact on the mortal realm; in one way or another, Daedric influence touches everyone on Tamriel.
The word "Daedra" is of Aldmeri origin, and roughly means "not our ancestors", as opposed to Aedra—"ancestors". Technically, only the plural is written "Daedra", but this word is frequently used in singular as well. The proper singular form is "Daedroth", but that has come to refer to a specific species of Daedra. Different cultures have their own myths and names for Daedra, as well.
Daedra are often referred to as demons, but this is misleading. All Daedra have a penchant for extremes and are therefore capable of tremendous acts of devastation, but their different spheres make them apply their power in different ways, and their infinite diversity makes speaking about them generally difficult. Thus, it is often impossible to accurately label them as "good" or "evil"; the one thing that can be stated with certainty is the Daedra are beyond mortal comprehension (as mortals seem to be beyond Daedric comprehension).
Daedra come in many forms. At the top are the various Daedric Princes that are commonly worshipped as gods. Below them are those that are highly intelligent such as the Dremora. There are many lesser beings known to be in league with these greater powers, but whether each type constitutes actual Daedra is unknown.
A Daedroth's physical form can be ruined, but it cannot be truly killed; the soul (more specifically known as the animus or vestige) of a slain Daedroth returns to the void of Oblivion until it manages to coalesce into a physical form again. A slain Daedroth is often said to have been "banished" or "purged" instead of "killed" to reflect this. It is not known what happens to a Daedra killed in Aetherius, though it has been suggested that this may be the one way to permanently kill a Daedra.
Daedra are great imitators, and their creations are described as mimicking things found on Nirn in an outlandish or even corrupted way. They are capable of creating seemingly indestructible and mighty daedric armor and weaponry through dark rituals.
Flame Atronach
Edit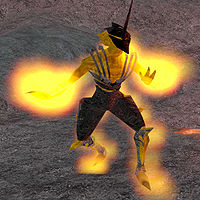 A powerful fire elemental Daedra which can be summoned by mages and hunted as a source of fire salts. Despite being made of fire, they will still take damage in lava and can move through water.
Frost Atronach
Edit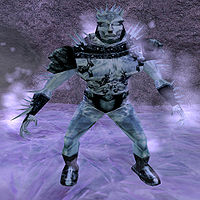 A powerful frost elemental Daedra which can be summoned by mages and hunted as a source of frost salts.
Creature
Drops
Attacks
Soul
Frost Atronach


atronach_frost

Frost Salts
105

-50

100
100
20

9-27 pts melee
Frostbloom - Frost Damage 1-25pts in 10ft for 5sec

138
(Greater)
Frost Atronach


atronach_frost_summon


(Created by the Summon Frost Atronach spell)
nothing
Frost Atronach


atronach_frost_ttmk


(Mount Kand, Cavern)
Frost Salts
140
Nomeg Gwai


atronach_frost_gwai_uni


(Dubdilla, Uncharted Caverns, Lower)
160
160
(Greater)
Storm Atronach
Edit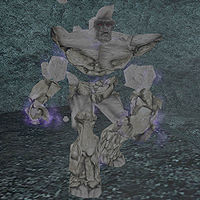 The most powerful atronach; a lightning elemental Daedra which can be summoned by more powerful magic users.
Clannfear
Edit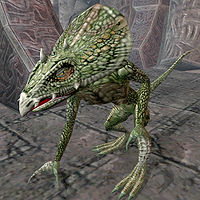 A fierce, large, lizard-like Daedra which is commonly sought for its heart for use in Alchemy. Strong, but slow, with a speed of 14. The second most common Daedra, after the scamp. Although commonly associated with Mehrunes Dagon, it can be found in other planes of Oblivion.

Creature
Drops
Attacks
Soul
Clannfear


clannfear

Daedra's Heart
113
100
(Common)
Clannfear


clannfear_summon


(Created by the Summon Clannfear spell)
nothing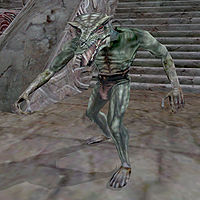 A bipedal Daedra with a large, crocodile-like snout. Daedroth have excellent melee and spellcasting abilities and should be confronted with caution by experienced adventurers only. Their hearts are commonly sought for their magical properties.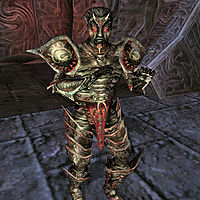 Intelligent and powerful war spirits in the service of Daedric Prince Mehrunes Dagon, Dremora are powerful foes and typically carry a range of high quality weaponry. Traditionally, Dremora are courteous and aware, but in many cases arrogant. However, this can only be sourced from the few Dremora that actually speak in the game.
Golden Saint
Edit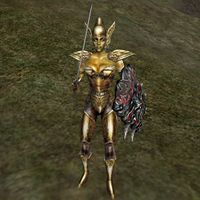 These magical females are the spawn of Sheogorath and are feared for their combat abilities. They spawn with high-level weaponry and shields, and have the highest soul value of any generic Daedra type. These creatures can be found in tombs, shrines, and wandering the Grazelands. They can also be summoned by Summon Golden Saint. Golden Saints are the only source in the game for the useful Daedric tower shield.
Creature
Drops
Attacks
Soul
Golden Saint


golden saint

Random Weapon
Random Shield
Daedra's Heart
250
50
50
50
100
20

20-60 pts melee plus weapon
Dispel - Dispel 100pts on Self
Shock Shield - Lightning Shield 3pts for 20sec on Self

400
(Grand)
Golden Saint


golden saint_summon


(Created by the Summon Golden Saint spell)
Random Weapon
Random Shield
Staada


golden saint_staada


(Outside Rayna Drolan's Shack in the Sheogorad region)
Random Weapon
Random Shield
Sheogorath's Signet Ring
Daedra's Heart
350

25-65 pts melee plus weapon
Dispel - Dispel 100pts on Self
Shock Shield - Lightning Shield 3pts for 20sec on Self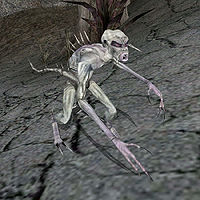 The Hunger is one of the many servants of the Daedric Prince Boethiah and is known to be capable of quickly destroying its opponents' armor and weapons. The hunger uses its long tongue to attack as well as its claws and spells. A summoned hunger can make a useful guardian against a well-armored foe.
It is one of the two creatures in the game without unique sound effects - it shares sounds with the alit.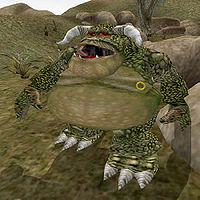 Very large, but none too intelligent, Ogrims are servants of the Daedric Prince Malacath. Unlike the other Daedra listed on this page, there are no Summon spells associated with this species.
Creature
Drops
Attacks
Soul
Ogrim


ogrim

Daedra's Heart
170
100
1-5
165
(Greater)
Ogrim


ogrim_az


(Outside Rayna Drolan's Shack in the Sheogorad region)
Ogrim Titan


ogrim titan

220
70
(Common)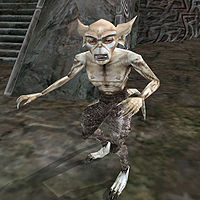 A weak and cowardly servant of Mehrunes Dagon, it is both the most common Daedra in the game and the weakest. They are immune to unenchanted iron and steel weapons.
Winged Twilight
Edit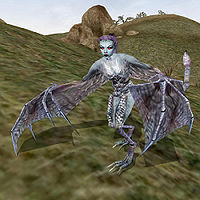 A female formed Daedra with wings operating as messenger of the Daedric Prince Azura.
Creature
Drops
Attacks
Soul
Winged Twilight


winged twilight

0-3 Void Salts
220
50
50
75
50
20
300
(Grand)
Winged Twilight


winged twilight_summon


(Created by the Summon Winged Twilight spell)
Molag Grunda


winged twilight_grunda_


(Dubdilla, Uncharted Caverns, Lower)
260
350
(Grand)