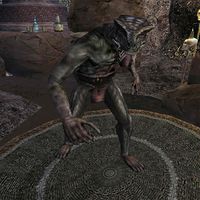 Menta Na is a unique Daedroth deep inside of Kora-Dur, east of Kogoruhn. Molag Bal offers you an artifact in return for Menta Na's death.
Related Quests
Edit
Menta Na makes another appearance in ESO.
Menta Na is the only creature that potentially drops Daedra Skin.

This bug is fixed by the Morrowind Patch Project. As of patch level 1.6.4, Daedra Skin can be dropped by clannfears, daedroths, hungers, ogrims, and ogrim titans.