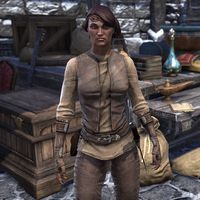 Rasna is a Redguard antique dealer who sells her wares from an open stall in Orsinium's marketplace.
While her antiques aren't available for you to peruse, Mages Guild member Deechee-Noo needs an ancient wing bone to perform a ritual to attempt to revert a hagraven transformation curse. She can either be intimidated to give the item gratis or it can simply be purchased with gold.
Like Nednor and Telarnel, Rasna has a casual relationship with the promiscuous Argonian and is looking forward to a future rendezvous with her.
Related Quests
Edit
"I carry only the rarest items from the ancient deserts of Alik'r.
Are you a collector of rare antiquities? If not, then I fear that my wares will be of little interest to you. Have a nice day."
Birdsong's Curse
Edit
Do you have an ancient wing bone?
"Tava smiles in your general direction today, friend, for I do indeed have many ancient bones to choose from. This wing bone, for example, comes from a bird that hasn't been seen alive since the Merethic Era.
May I ask why such a thing interests you?"
Deechee-Noo sent me. She needs the bone for a ritual.
"The lovely Deechee-Noo sent you? How intriguing. But as much as I enjoy the fair Argonian's company, I would hate to see such a rare and beautiful item destroyed.
Perhaps we should just tell her I wasn't able to help you today, wayfarer."

[Intimidate] Do you really want me to tell Deechee-Noo that you lied to avoid helping her?

"You would do such a thing? How despicable of you! But I would never do anything to alienate the beautiful Deechee-Noo.
Take the wing bone and give it to her with my deepest regards. And remind her that I look forward to our rendezvous on Turdas."
If spoken to again, she will say
"I hate to see rare antiquities mishandled and poorly used, but I suppose Deechee-Noo knows what she's doing.
And I never could say no to that lovely Argonian."