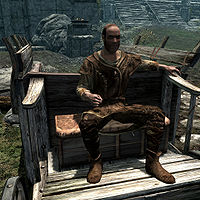 Kibell is a Nord warrior who drives the Markarth carriage.
He will charge you a fare for traveling to a hold capital. Going to the other four major hold capitals of Riften, Solitude, Windhelm, and Whiterun costs 20 gold. Going to the four minor hold capitals of Dawnstar, Falkreath, Morthal, and Winterhold costs 50 gold. Carriages do not depart from the four minor hold capitals and cannot operate when you are overencumbered.
Kibell wears a belted tunic along with a pair of boots. He also carries an iron dagger.
Asking Kibell what he knows about Markarth will have him respond: "It's an old city. Legends say Dwarves built it first. Then after they vanished, the natives moved in. Finally, the Nords took over around Tiber Septim's time. That bent a few folks' arms the wrong way." If you ask him to elaborate on that last part, he will continue: "That's right. Whole group of the natives called the Forsworn rose up against the Nords. Drove them out. Then Ulfric Stormcloak came with his militia. That must have been a sight to see, him shouting folks to death. You'd think that'd be the end of it, but those Forsworn are still in the hills, and they're as wild as wolves." If asked, he will give you more information on the "natives" he mentioned: "They just call themselves the people of the Reach. Lot of common blood with the Bretons, by the looks of them. Used to have their own kingdom, till the Nords came, now they're at the bottom of the hay pile." You can also ask him to confirm his comment that Dwarves built the city, to which he will respond: "That's right, at least according to them scholars. Stonework's clearly not Nord, that much is for sure. Old Elven fella named Calcelmo is up in Understone Keep's the one you want to talk to for more about that. Wrote all those books."
Related Quests
Edit