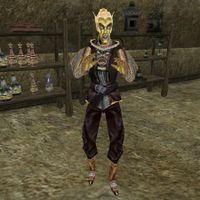 Mororurg is a High Elf alchemist and a member of the Aundae vampire clan, who can be found at their headquarters in Ashmelech. To fellow members of the Clan, he will offer a selection of alchemy supplies for sale, provided you have completed the Blood Ties quest for Dhaunayne Aundae. If you are not a member of the clan, he will attack on sight.
Mororurg wears an expensive shirt with a matching amulet, shoes and pants. He wields a chitin shortsword in melee combat and carries a bargain restore personality potion with him. He knows the spells Summon Greater Bonewalker, Cruel Weary, Vampire Touch, Bound Mace, Bound Armor Crushing Burden.
While Mororurg is listed as selling Magic Items, there are no enchanted versions of the item types he sells, so this distinction is somewhat meaningless.
Despite being a vampire, Mororurg has the voice of a mortal Altmer.
Items in bold are Leveled Lists. Click on them to learn more about what they may contain.