MolagBallet
Member since December, 2018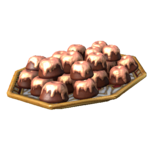 I take a lot of screenshots. And I also know a lot of stuff that probably classifies as useless information to anyone who's unfamiliar with ESO. If you need something done to an ESO article, I'll probably have some sort of information to add.

I do people pages, place pages, NPC pages, collections pages and lore pages. I'm currently setting out to get images of every NPC in ESO that doesn't already have one.

It's slow going, but I've also made it my mission to document every single place in ESO as I go through them. If you have information or images to contribute to place pages, please add them. Every little bit helps, and it's one less image I have to upload or one less bit of information I have to remember.
---
So I Can Find It
Edit
Favorite Pages
Edit
These are my favorite pages on UESP. Well, at least my favorites out of the ones I've worked on. There are probably articles that are better, but for one reason or another, I'm storing these pages here so I can go back and look at them every now and then.
To Add to Lore
Edit
Mazza-Mirri's dialogue: The Crossing - "On the edge of eternity Azurah watches over the Gates of the Crossing behind the Lunar Lattice. It is a twilight realm where death's tide reaches the afterlife's shore. Khajiit must pass through it before they reach what waits beyond." (Azurah's Crossing)
Haxal's dialogue: In Argonian culture, it's polite to gargle your drink./Eel paste is boiled to make brews; boiling it every morning prevents it from being rancid./Snail-gin is a type of alcohol; Argonian brewmasters are trying to figure out how not to make it kill people when they drink it.
Cheemee: Snakes and slugs as food.
Phlegmwine: Bond-Guru Topeth (Argonians love it; feasts and phlegmwine are festive)/("The phlegmwine is still bubbling, have some before the bog gasses run dry!")
Beehuna ("The brewer tells me I drank all the celebration phlegmwine; now he asks coin for more.")
Weegam ("I am not supposed to tell you, but the neiweets and root-nurses prepared a great feast in your honor. Mmm! I can smell the phlegmwine from here! Hurry and kill the beast so we can celebrate!")
Jotep-Liurz ("This phlegmwine has just the right amount of skin forming on the top. And the sweetbile trembles ever so slightly in the stomach. Perfection!")
Aquatic Animals
Edit
Thrassian Ink contraband desc
Necromancy
Edit