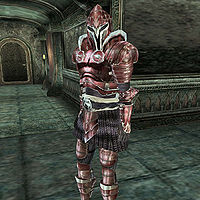 The Royal Guard are sworn to serve King Helseth and protect him from all harm. There are only two ranks: guard and captain, and the current captain is Tienius Delitian. They all wear the distinctive red Royal Guard Armor, a set of which is given to you after completing the Tribunal Main Quest.
King Helseth chooses the guards himself, selecting only the most loyal and skilled warriors from all of Tamriel. Some of the guards have been with Helseth since his time in Wayrest. Tienius Delitian has been with him even longer, since Helseth was a child in the Emperor's court.
During the main quest, Tienius Delitian hands you a King's Oath blade, and tells you that the Royal Guard use them, and that the swords bear deadly curses that kill thieves and traitors. In fact, the other guards all use Adamantium Claymores.
Despite their fearsome reputation, Almalexia is somewhat disdainful of the Guards and claims that Her Hands are the most powerful warriors in all of Mournhold. Gavas Drin, also of the temple, describes them as "Young King Helseth's handpicked thugs" and doesn't believe any guards other than the High Ordinators are necessary in Mournhold. Others, however, consider them to be highly efficient soldiers.
Named Members
Edit
The most favoured Royal Guards (those within the Throne Room itself) possess a set of powerful abilities: