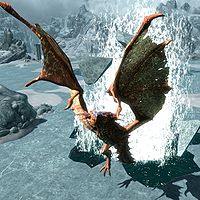 Voslaarum is a named dragon in Forgotten Vale. It guards a word wall for Drain Vitality, along with Naaslaarum.
Like all living dragons, Naaslaarum and Voslaarum will not spawn until after Dragon Rising is completed, to prevent early access to shouts.
If it is completed, they will be lurking in the water of the frozen lake near the Portal of Resolution, right under the ice, where you can only see them by diving. When you approach them, wittingly or not, they will both burst out through the ice and attack you.
Unlike other named dragons in the game, the dragon language translations for Voslaarum and Naaslaarum's names are not yet known.
Voslaarum and Naaslaarum still may not appear even if you have completed Dragon Rising.
Voslaarum may end up in slow motion after diving into the ice and exiting again, causing the dragon to fly incredibly slow.

This can sometimes be fixed by using Dragonrend on him, forcing him to land.