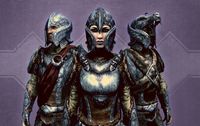 Vigil Enforcer Armor Set is a Creation that adds four sets of armor used by the Vigil of Stendarr. It was released on December 6, 2018 for 600 CC Credits.
This Creation was primarily made by Maty743. The quest was created by Kris Takahashi.
Official Summary
Edit
While Stendarr may offer mercy, the Vigil have none to spare. Among the ranks of these holy warriors are armored paladins who shed their priestly robes for hide and steel. Collect and craft four unique armor sets and deliver Stendarr's justice to both the abominations and those corrupted by them. Created by Maty743. Quest created by Kris Takahashi. (Quest "Unholy Vigil" starts by reading the Letter to Keeper Carcette in the Hall of the Vigilant south of Dawnstar.)
Read the letter to Keeper Carcette in the Hall of the Vigilant south of Dawnstar to start the quest Unholy Vigil. You will discover that Vigilants of Stendarr have recently been disappearing while on patrol in the Pale. You will need to journey to Dawnstar and investigate three suspicious individuals to uncover the source of these killings. Your search will ultimately lead you to a hidden chamber within Quicksilver Mine containing an altar dedicated to Molag Bal.
Over the course of this quest, you will have the opportunity to obtain a full set of each of the new armor types: Vigil Veteran, Vigil Enforcer, Vigil Corrupted, and Vigil Silver Hand. The Vigil Enforcer and Vigil Veteran sets are almost visually identical, with the Enforcer set lacking the Veteran set's elaborate steel etchings on the shoulderpads and upper chest. Once the quest is completed, you will also be able to craft all of these armor types at a forge provided you have the Steel Smithing perk.
This creation overlaps with The Cause Creation, with Vigil Enforcers being added as NPCs in that creation's locations if both are installed.
Books
| | | | |
| --- | --- | --- | --- |
| Vigil Corrupted armor: | Vigil Enforcer armor: | Vigil Silver Hand armor: | Vigil Veteran armor: |
NPCs
Quests