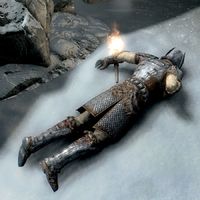 Azarain is a Vigilant of Stendarr who has come to Dawnstar to investigate disappearances of his fellow Vigilants in the region. He was staying at the Windpeak Inn but during the related quest you will find his corpse at the Windward Ruins outside of town, having been murdered by a Daedric cult.
You will need to read his journal to progress the quest, which can be found on his body in addition to a full set of Vigil Veteran armor, a random leveled mace up to Daedric quality, two random leveled potions of restore health, a potion of cure disease, and one book or recipe (Physicalities of Werewolves, The Book of Daedra, Varieties of Daedra, Immortal Blood, Cure Disease Potion Recipe, or Resist Poison Potion Recipe). A lit torch can also be found next to his body.
If reanimated, he can cast three spells: Healing, Lesser Ward, and Oakflesh.
Related Quests
Edit