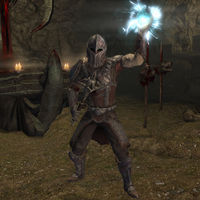 Fenrik is an ex-Vigilant of Stendarr who has contracted vampirism. He is the leader of a Daedric cult and has made a pact with Molag Bal to sacrifice nine of his fellow Vigilants in return for a vampirism cure. He has constructed an altar to Molag Bal within a hidden chamber inside Quicksilver Mine in Dawnstar.
You will be tasked with killing him and his thralls during the related quest.
He wears a full set of Vigil Corrupted armor and wields a random leveled mace, which can get up to Daedric quality. He also carries two random leveled potions of restore health, a torch, and his journal.
He knows three spells: Healing, Lesser Ward, and Oakflesh.
Related Quests
Edit