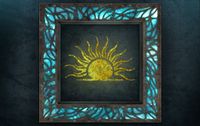 The Cause is a Creation for Skyrim Anniversary Edition.
It involves a group of Mythic Dawn cultists attempting to open an Oblivion Gate to the Deadlands.
Official Summary
Edit
Creation Club

Despite their losses, the Mythic Dawn continue to serve Lord Dagon in the shadows, in search of a new gate, and a different ending. Features brand new enemies, locations, weapons, flora, and a conjurable Daedric Horse, all contained in a multi-layered adventure! Created by Rob Vogel "fadingsignal" (Quest "The Cause" starts by reading the Stranger's Plea delivered by courier upon reaching level 46.)
Sneak Peek

[...]'The Cause,' has players encounter the Mythic Dawn, who aim to form a new Oblivion gate, and features brand new enemies, locations, and weapons – not to mention a conjurable Daedric horse!
Sneak Peek The Cause

The Mythic Dawn returns, scavenging pieces to build and open an Oblivion Gate to the realm of their master, Mehrunes Dagon!
Daedric machinations await you, but so do Daedric rewards. In this adventure, you will hunt down the Mythic Dawn cult, last seen in force in The Elder Scrolls IV: Oblivion. They look to reconstruct one of the Gates of the Oblivion Crisis and it is up to you to stop them.
Your adventure will take you underground to the ancient Ayleid ruins of Rielle. Not only is this an opportunity to revisit this classic dungeon, but also fight its undead inhabitants: the wights. Fight your way through this dungeon to their moldering leader and learn more of the Mythic Dawn's plans.
Additionally, the Ayleid Ruin dungeon kit is being added to the base game as a free modders' resource for PC, Xbox, and PlayStation systems, just like the Root Dungeon kit added in 2019. We can't wait to see what new locations our amazing modding community designs with this new kit!
The Cause is a multi-layered and multi-site adventure. In addition to the new enemies it also adds new gear to obtain and even a summonable Daedric horse. Dig deep and reap the rewards while dashing this nefarious plot.
See The Cause Items for a detailed list of items added by the creation.
Creatures
Items
Books
Ingredients
Spell Tomes
Weapons
Places
NPCs
Spells
Quests
The Ayleid dungeon tileset used in this Creation was incorporated into the Special Edition base game and is available as a modder's resource.
The Oblivion Gate remains opened after the quest is complete, allowing you to return and harvest the new flora.
In Rielle is a dead Orc Adventurer. This is a reference to Orcish Adventurers that could be encountered in Oblivion. They had a 10% chance of spawning in 16 specific locations, including Rielle.