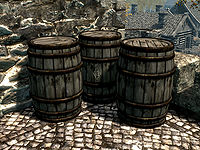 Thief caches are barrels that appear in various places around Tamriel as you progress in the Thieves Guild quest line. They often appear near other barrels, but can easily be distinguished from them by the Thieves' Cache shadowmark (

) on their side. The first three appear in Riften after you first join the Thieves Guild. After that, three barrels appear in each of the appropriate cities as you complete the various reputation quests.
The barrels contain significant loot and will respawn.
An additional barrel is available with the Dragonborn add-on.
Locations
Edit
The caches may not appear after completing the correct quests.

This bug is fixed by version 1.9.26.0.8 of the Official Skyrim Patch.
You may enable them with the console using the following IDs:

Markarth: prid 000FF21F
Solitude: prid 000FF216
Whiterun: prid 000FF21C
Windhelm: prid 000FF219