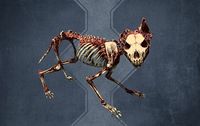 Bone Wolf is a Creation that adds a Bone Wolf pet. It carries items for you and boosts your damage against undead enemies. It was released on October 4, 2018 for 200 CC Credits.
The quest added by this Creation was made by Skinnytecboy.
Official Summary
Edit
Despite being raised by necromancers, a Bone Wolf's true loyalty is earned through actions rather than magic. A faithful companion with a bone to pick, this skeletal pet will reward your friendship by carrying items and boosting your damage against the undead. Quest created by Skinnytecboy. (Creation obtained via quest)
This Creation adds Bone Wolves to the game as generic enemies, as well as a quest to obtain one as a pet. The pet Bone Wolf will not fight for you, but does grant the Bone Wolf's Revenge perk while in your company, increasing your damage against undead and necromancers by 25%. Bone Wolves first appeared in the Bloodmoon expansion for The Elder Scrolls III: Morrowind.
Books
Creatures
Items
Quests
The Bone Wolf's Revenge perk makes spells (+25% effect and +50% effect duration) and physical attacks 25% more effective against the undead and necromancers while stacking with Necromage perk.
This Creation received an update in February 2019 which added enemy Bonewolf spawn points at set locations. Note that these are shared spawn points with ZombiesCC, so either can appear at any point if you have both Creations installed. If you have neither Creation, rabbits can be found at these spawn points.