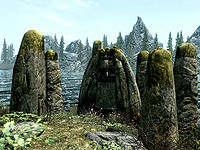 The Lady Stone is one of the thirteen Standing Stones scattered across Skyrim.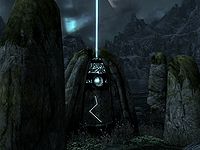 Those under the sign of The Lady regenerate Health and Stamina more quickly.
Activating the Lady Stone provides the player with a 25% boost to both health and stamina regeneration rates.
The Lady Stone
Edit
The treasure chest for Treasure Map X is located underwater just east and slightly north of the stone.
The loading screen for The Lady Stone implies the stone provides a power rather than a constant effect ability, which is incorrect.