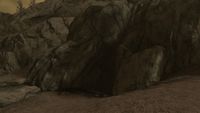 Ashfall's Tear is a hidden Tribunal Temple shrine to the Goddess Almalexia in a cave north of Raven Rock. The cultists within are outcasts from Dunmer society, persecuted by the New Temple for their heretical beliefs. They will be hostile towards you, although it is possible to infiltrate and later join the cult during the Ghosts of the Tribunal quest.
The cave can be reached by following the slope east of Raven Rock Mine, then turning left until you reach the mountainside. It consists of one zone: Ashfall's Tear.
Related Quests
Edit
Ashfall's Tear
Edit
Residents
Edit
This cell exists even without Ghosts of the Tribunal installed as ccPlaceholder16Interior01 "Creation Club Cell".
Even after you have befriended the Temple, the pillar door may close and the first interior door may lock again, with no in-game option but to pick the lock.