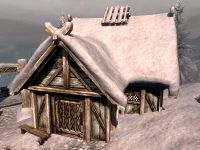 The Shaman's Hut is a house in the southeastern part of Skaal Village.
It is the home of the village shaman Storn Crag-Strider and his daughter Frea. It consists of one area, Shaman's Hut.
Residents
Edit
Shaman's Hut
Edit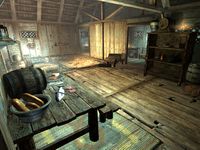 The front door opens to a well-dressed dinner table to the left and three respawning barrels and a non-respawning sack to the right, all of them with food. Next to the barrels are a set of shelves with two bottles of ale, an ash yam and one bottle of alto wine along with a respawning food sack. The dinner table holds three loaves of bread in a bowl, a salmon, two pieces of salmon meat, a salmon steak, a piece of bread, a green apple, and an eidar cheese wedge. On a shelf above are two salt piles on a plate and a flute.
Opposite the table is the entrance to the room with an arcane enchanter. A non-respawning dresser holds various clothing and a bowl with a gourd sits on top, next to a set of clothes. To the left of the enchanter is a copy of the book Children of the All-Maker and in a wooden bowl are a Nordic barnacle, a pearl, and a rare small pearl. Also on the table there's a filled lesser soul gem, a horker tusk, a salt pile, and a plate with another Nordic barnacle and a rock warbler egg. Above the enchanter are two non-respawning food sacks, some snowberries, and a bit of wheat on a shelf. On the floor to the left of the table is an open box containing a potato.
A huge fireplace covers most of the floor in the central room with two chopped pieces of firewood and two ash yams on the side. On the roof supports above is a single bottle of ale. There is an alchemy lab in the southwestern corner, with a bulb of garlic in a bowl and a freshly caught rabbit and some dried frost mirriam hanging above. The non-respawning cupboard to the left contains clutter and the respawning barrel contains food. The shelves above the cupboard hold a head of cabbage, a fillet of horker meat, and another salt pile. A bottle of alto wine and a bottle of ale can be found on the top shelves along with a respawning apothecary's satchel containing uncommon ingredients.
Another respawning apothecary's satchel on a ledge, this time containing rare ingredients, can be found underneath the mudcrab trophy on the wall, along with some wheat and a bucket containing a sample of scathecraw, one of trama root, and a mudcrab chitin. Some shelves near the bedroom door hold a deer hide, a pair of boots, and two non-respawning food sacks. The bedroom contains two owned beds and a set of shelves with three pearls and a horker tusk.