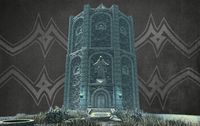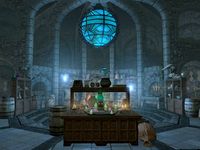 Myrwatch is a Creation that adds a player home in Hjaalmarch. Like Tundra Homestead, it contains an area for displaying unique items. It also includes a staff enchanter from Dragonborn. It was released on August 29, 2018 for 400 CC Credits.
This Creation was made by Elianora, the same author as Tundra Homestead.
Official Summary
Edit
Creation Club

Deep in the heart of Hjaalmarch lies a tower of unknown provenance. Legends say it was a home and hearth, an exquisitely decorated residence built by mages who defected from the College of Winterhold. But whatever its secrets, the truth can only be known by finding a way in. Created by Elianora. (Quest "Myrwatch" starts by traveling to the tower east of Morthal, and reading "Hans's Journal" nearby.)
Sneak Peek - Aug 2018

Myrwatch is a remote, but lavishly appointed, new player home deep in the fens of Hjaalmarch. The second floor contains a broad array of displays, allowing collectors to show off many of the unique items found across the land. More magically inclined characters will also find a rare staff enchanter here.
This creation adds Myrwatch, a mage tower east of Morthal. The tower is originally locked, but can be unsealed by completing a short quest. It can then be used as a free player home.
The tower comes fully-furnished and consists of two interior spaces separated by a magic portal. It contains many crafting stations, including an oven, a staff enchanter (the only one outside Tel Mithryn), and an "All Forge" which allows you access to crafting options usually exclusively available at the Skyforge and Gunmar's forge. The upper floor houses an indoor alchemy garden, with eleven plots of Fertile Soil for gardening. The property also possesses a large numbers of display cases and racks, with places to store unique artifacts and items such as dragon priest masks and bugs in a jar.
Books
Creatures
Items
NPCs
Places
Quests
A previous version of Anora's Journal made reference to the Warlock's Ring, which was supposedly stored in Myrwatch by its original inhabitants. However, the ring was not included with Myrwatch, and the Creation was updated shortly after release to remove all mention of it. The free Fishing Creation released on November 11, 2021 made the ring available via the quest No Contest by fishing at a spot close to Myrwatch.
The unique Smelting Pot can also be found in Bloodchill Manor. It functions the exact same as a smelter.
The Arcane Enchanter within the Gallery has a unique look to it featuring a skull.
There's an abundance of the useful ingredient Hanging Moss all around the rooms.