Skyrim:Dawnguard Rune Axe
The UESPWiki – Your source for The Elder Scrolls since 1995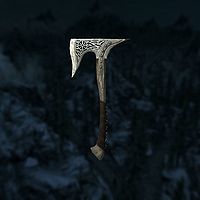 "An axe imbued with magic fueled by the destruction of the unholy. With every victorious blow against an undead creature, its power grows." — Florentius Baenius
The Dawnguard Rune Axe is a powerful war axe received as part of the Lost Relic quest. It is the only artifact in the game that is a war axe.
Its enchantment does 10+n sun damage to undead where n is the number of undead killed since the last sunrise. Consequently, the enchantment becomes more powerful the more it is used. This axe can potentially be extremely powerful, as it does not require recharging with a soul gem, and also has an area of effect.
This axe also instantly shatters any ward spells it hits.
Actual maximum bonus damage is capped at 100, although the counter in the item's description will continue to increment for each undead killed, even past 100.
You can easily raise your kill count to 90 by raising your own undead and then killing them with the axe, particularly if you have access to Dead Thrall, so you can re-use the same corpse indefinitely.
The kill count is supposed to reset every morning at 5am, and the first time you equip the axe after midnight; however, see the bugs section.
Smithing the Rune Axe will "lock in" the number of undead killed, and the count will no longer reset. ?