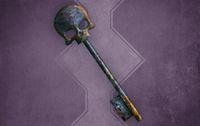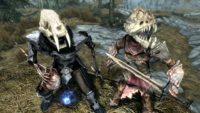 Gallows Hall is a necromancer themed Creation with a Necromancer-themed home.
It provides the ability to get an extra permanent conjured skeleton follower via the Bone Forge, a powerful staff that can summon permanent dead thralls as well as a light helmet that applies a second Necromage perk when worn.
Official Summary
Edit
Old forts have long been bastions for the dead, as mortals both wicked and misunderstood have hung from their gallows. Here, a necromancer can find a home filling its coffers with treasures that suit the morbid and macabre - provided they survive it. Claim the legendary Bloodworm Helm, Helm of Oreyn Bearclaw, and the Staff of Worms to wield the power of Mannimarco himself! Created by Rich Marin. (The "Dreams of the Dead" quest starts by reading Naara's Journal within the abandoned fort on the northern edge of Mara's Eye Pond.)
Items

Books

Keys

NPCs

Places

Quests
The .esl name of the Creation was added in Patch 1.5.80 in July 2019, but its release was delayed due to COVID-19.