Creation:
Alternative Armors - Dragon Plate
Released
November 11, 2021
Size
52.9 MB (PC) / (?) (Xbox One) / (?) (PS4)
Filename
ccbgssse059-ba_dragonplate.esl
Availability
PC
Available from Creation Club for 100 CC Credits
Other
Also available on Xbox One, PS4, PlayStation 5, and Xbox Series X/S
Requirements
Patch
Special Edition Version 1.6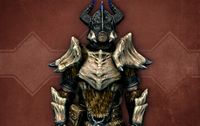 Alternative Armors - Dragon Plate is a Creation that adds a variant of Dragon Plate armor that is based on the Dragon Plate armor set from Blades.
Official Summary
Edit
Includes four pieces of heavy Dragon Plate armor as featured in The Elder Scrolls: Blades plus the famed Dragonbone Mail. Quest by Kris Takahashi.
A high character level is recommended for completion of this quest. It should also be noted that the final location, Arcwind Point is highly susceptible to game bugs. This location has always had a buggy nature to it as it's a very "quest-congested" area. It was already having problems with Dawnguard's addition of a dragon but now this quest and the entrance location of the Ancient Ayleid Ruins Of Rielle from "The Cause" creation have also been added on top of the numerous possible radiant quests such as the Greybeards' Word Wall Revelations that send you here. It's highly recommended to make a save before arrival or better yet resist reading "Linelle's Note" until traveling nearby and making a save before the objective is even added just to be on the safe side. This is in case any elements fail to spawn such as items or the body of Bjormund itself.
It is recommended not to pursue this armor set too late in the game. The body that the Dragon Plate Armor is looted from is prone to despawning if left too long. This bug still appears to be irreparable on most consoles.