Discoverable
No
Occupants
New Moon Marauder
Zone
Southern Elsweyr
Location
Island east of South Guard Ruins
Other Buildings
Loading Screen

"That island with its ancient ruins of Fort Vashr, no matter how tempting it appears, it is a death trap. No Khajiit, no matter how brave, has any business exploring that haunted place."—Z'har Tasluz, in a speech at Senchal Palace, 2E 561.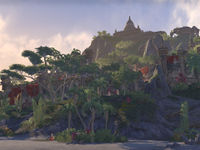 Tideholm is an island off the coast of Southern Elsweyr, due east of the South Guard Ruins. It houses an ancient fort known as Fort Vashr that was formerly a Dragonguard stronghold.
The bulk of the island can only be explored during The Dragon's Lair when fighting the Order of the New Moon cult, as once you reach the temple summit, only the courtyard with Nahfahlaar and the Dragonguard Sanctum itself is accessible.
Related Quests
Edit