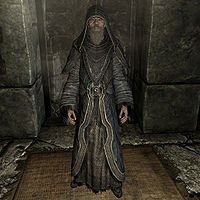 Einarth, an elderly priest, is one of the Greybeards living at High Hrothgar. He will teach you the second word of the Unrelenting Force shout. At the end of the quest Alduin's Wall, Einarth can be heard lecturing Arngeir when the latter refuses to help you in your quest to learn the Dragonrend shout, saying: "Arngeir. Rok los Dovahkiin, Strundu'ul. Rok fen tinvaak Paarthurnax."
Einarth wears a set of Greybeard's robes with the matching hood and boots. He carries a copy of the book Dwemer History and Culture, a bottle of Black-Briar Reserve, a horker tusk, one sample of juniper berries, and three leather strips.
He knows the following shouts: Disarm, Dismay, Elemental Fury, Fire Breath, Frost Breath, Ice Form, Unrelenting Force, and Whirlwind Sprint.
Related Quests
Edit