Fire Breath
(00

03f9ea

)
Inhale air, exhale flame, and behold the Thu'um as inferno.
Thu'um

YOL




Yol
Fire

T8R




Toor
Inferno

SHUL




Shul
Sun

ID

00

020e17

00

020e18

00

020e19

Effects
Recharge
Spell ID
Yol
50 Fire Damage
30
00

03f9eb

Yol Toor
70 Fire Damage
50
00

03f9ec

Yol Toor Shul
90 Fire Damage
100
00

03f9ed

Locations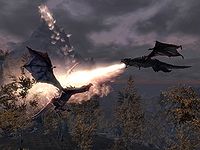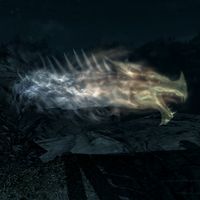 Fire Breath is a shout that deals fire damage to enemies, and potentially staggers them as well. Its use does not increase XP for the Destruction skill.
Meditation
Edit
Meditating on the word Yol with Paarthurnax grants the player The Fire Within, an ability which increases the damage from this shout by 25%.
Dragonborn FlameDBEdit
Dragonborn adds the Dragonborn Flame ability which summons a Fire Wyrm for 60 seconds when an enemy is killed with the Fire Breath shout. All available words of the shout must be used for a Fire Wyrm to appear. If multiple enemies are killed with the shout, multiple Fire Wyrms will appear.
The Fire Wyrm itself is similar in appearance and behavior to an Ice Wraith. It is resistant to fire and uses a "Fire Bite" attack. When killed or when its timer expires, it explodes, dealing some damage. Unlike other summons, the Fire Wyrm will not follow the player. It is best to kill weaker enemies at the start of a fight with the Fire Breath shout, so the Fire Wyrms can help against stronger enemies of a group.
Related Quests
Edit
Word Wall Translations
Edit
Thu'um
Word Wall
Translation
Transliteration
Yol
QETHSEGOL V4RUKIV K3R
JUN JAFNHAR WO LOS AG
N4L1S N1L

YOL

DO
LOT DOV4 LODUNOST
(This) stone commemorates (the) child
king Jafnhar who was burned
alive by (the)

fire

of
(the) great dragon Lodunost.
QETHSEGOL VahRUKIV KiiR
JUN JAFNHAR WO LOS AG
NahLaaS NaaL

YOL

DO
LOT DOVah LODUNOST
Toor
AESA W4L1N QETHSEGOL
BR3N43 V4RUKT THOHILD
FIN

T8R

WEN SMOL3N AG
FRIN OL S4QO H2M
Aesa raised (this) stone
for (her) sister, Thohild
the

Inferno

, whose passion burned
hot as (the) Red Forge.
AESA WahLaaN QETHSEGOL
BRiiNahii VahRUKT THOHILD
FIN

TooR

WEN SMOLiiN AG
FRIN OL SahQO HeiM
Shul
HET M4 HERFODR


SHUL

-KR3D S4ROT
KON4RIK DO LUMN1R
DO KRENT H4NU
Here fell Herfodr


Sun

-Slayer, mighty
warlord of (the) Valley
of Broken Dreams.
HET Mah HERFODR


SHUL

-KRiiD SahROT
KONahRIK DO LUMNaaR
DO KRENT HahNU
The second and third word of this shout make it increasingly less efficient when it comes to damage per second (dps) per second of cooldown. The first word alone does 1.6 damage per second of cooldown, while the second word and third word only do 1.4 and 0.9 damage per second of cooldown, respectively.
If none or only one of the words of the shout Fire Breath is known when you first approach Paarthurnax at the Throat of the World, and you have a dragon soul in stock, you can use the soul to learn the newly found word on the wall before Paarthurnax unlocks it for you. This results in the "soul" from Paarthurnax teaching you the next word of the shout. This way you can learn two words of the shout at the same time.

If you do this when you have no words for Fire Breath, the next word wall for Fire Breath encountered will not unlock the final word. All three locations will still need to be visited to unlock the final word. If you have unlocked one word, you do not have to visit the final location; however, it will still run the animation as if you were learning the word.