This article is being developed as part of the Skyrim Houses Redesign Project. If you see this tag it means the article can still be improved. Please see the project page for guidelines.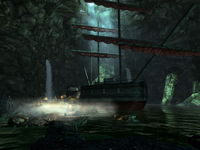 Dead Man's Dread is an ancient ship located within the Grotto on Blackbone Isle. It is initially filled with undead, but can be claimed as a player home after completing the related quest.
Related Quests
Edit
The ship's cupboards contain unique clothing items added by this Creation.
Although Blackbone Isle has a map marker, it cannot be fast travelled to from the mainland, requiring you to take the boat from Orphan's Tear. This makes Dead Man's Dread particularly inconvenient as a player home, requiring four loading screens to reach via fast travel.