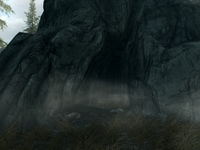 Blackbone Isle Grotto is a small cave connected to the sea, situated on Blackbone Isle. The cave is initially filled with undead. It houses a haunted ship named Dead Man's Dread, which can be repurposed as a player home after completing the related quest.
Related Quests
Edit
Walkthrough
Edit
The entrance to this cave can be found directly next to the boat connecting Blackbone Isle to Orphan's Tear. For more information, see the Blackbone Isle article.
Blackbone Isle Grotto
Edit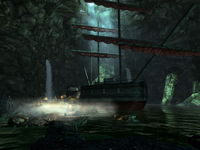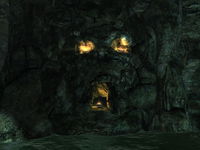 Blackbone Isle Grotto is a flooded cavern containing Dead Man's Dread, a famed ship which became trapped underground roughly six hundred years ago. Two undead enemies block your path when you first approach the ship, although they do not respawn. A giant skull has been hewn into the stone wall of the cavern. In the mouth of giant skull, behind and to the right of the fire is a treasure chest. To reach it you can use Whirlwind Sprint from the ship's bowsprit and aim for the mouth.