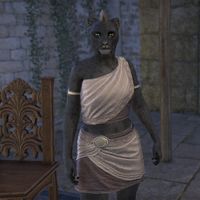 Nadari-dra is a Khajiit noble who can be found in the courtyard of Castle Navire.
Related Quests
Edit
Quest-Related Events
Edit
People of Import
Edit
When spoken to during the quest, she'll say:
"A pleasure to meet you. This one is called Nadari-dra. Rarely has she found herself in such a gathering of wealth. But then Nadari-dra's business ventures in the Systres are proving most profitable."
"Forgive Nadari-dra for saying so, but you seem … out of place in this company. This one is too. Nadari-dra is a merchant of modest success, not a great lord or lady."
"So many fine people and such a lovely setting. Yet Nadari-dra must ask the question: Where are Queen Ayrenn, High King Emeric, and Prince Irnskar? Has some misfortune befallen them?"
A Chance for Peace
Edit
She can be found among the crowd during the ceremony in the Gonfalon Palace. She has no unique dialogue.