Quest Hub
Discoverable
Yes
Completion
Objective
Zone
Sapphire Coast, High Isle
Location
(?)
Loading Screen

Castle Navire serves as the seat of power for the ruling house of the Systres Archipelago, House Dufort. Few citadels can boast grander views—or more persistent intrigues.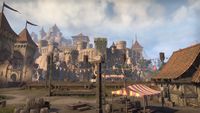 Castle Navire is the seat of power House Dufort, located far west of Gonfalon Bay, southwest of All Flags Islet.
Related Quests
Edit
Castle Navire Objective: Aid Isobel's friend and win the Sapphire Tourney. / You acted as Isobel's second and won the Sapphire Tourney.
Residents
Edit
WayshrineEdit
Castle Navire Wayshrine is located on the northern road out of the town.